Snow in the Pyrenees
Wednesday, May 15th: It rained during much of the night, but had stopped by the time we did our pre-breakfast birding around the hotel. This was the best weather we would see today.
We headed up to some ski areas near the French border and to the east of the Hecho Valley (Astún and Candachu. The total number of birds seen today was small. However, we got good looks at both choughs, Common Rock Thrush, and Dunnock. There were large numbers of Northern Wheatears congregating on the snow-free patches (over 30 in a single small patch). They were joined by a number of Water Pipits. A Whinchat was also present.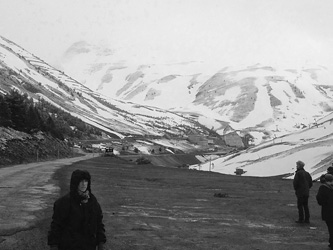 Astún Ski Area
Astún Ski Area
We stopped for coffee and hot chocolate between covering the two ski areas. The French border was a short walk from the cafe, and most of us walked across it. Both Spain and France are signatories to the Schengen agreement. As a result, the former border post is now deserted, a relic of a past era.
| | |
| --- | --- |
| | |
| French Border | San Juan de la Peña Monestery |
After lunch, we went up in the Sierra de la Peña and tried to do some forest birding near the monastery of San Juan de la Peña, but the rain defeated us. The monastery itself is interesting, being tucked under a cliff. Parts of it date back to 920 AD.
Today's total was only 29 (with 1 lifer) bringing me to 202 species (68 lifers) for the trip.
Hotel Usón, Hecho