Monfragüe National Park
Friday, May 10th: A Eurasian Blue-Tit right outside the hotel was the first new bird of the day. After breakfast, we headed into Monfragüe National Park. We went up to the castle first, hoping to find White-rumped Swift. There were Common Swifts, and many swallows and raptors, but no White-rumped Swift.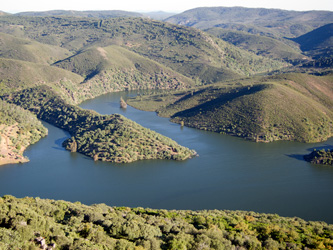 Monfragüe View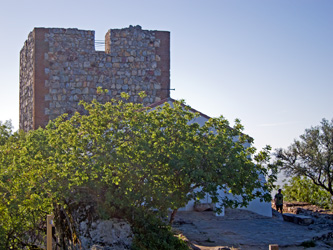 Monfragüe Tower
Our next stop was by the Peña Falcon pinnacle. A White Wagtail was new for the trip, and we finally saw a Eurasian Wren (previously heard), but the highlights here were the roosting Griffon Vultures and nesting Black Storks.
| | |
| --- | --- |
| | |
| Peña Falcon Pinnacle | Griffon Vultures on Pinnacle |
| | |
| --- | --- |
| | |
| Griffon Vulture Kettle | Black Stork on Nest |
We then tried a brushy area at the park's only road junction. It took some persistence, but we finally saw Subalpine Warbler, Dartford Warbler, and Thekla Lark. A little further along the road we managed to spot a Black-eared Wheatear.
Portilla del Tietar didn't add anything new, but we couldn't complain about the good looks at a Spanish Imperial-Eagle. We did get some new birds near our lunch stop at Hotel Rural Puerta de Monfragüe. Two of us were walking the road during an after-lunch break and found a Eurasian Nuthatch. A little later on, the whole group caught up with the nuthatch and added Rock Sparrow. Finally, just as we were leaving, someone noticed a Woodlark sitting on a post.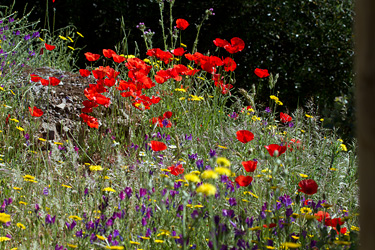 Wildflowers
Spanish Imperial-Eagle
Egyptian Vulture
Griffon Vulture
We returned to the castle, still hoping for swifts. We had no luck, and accepted a Golden Eagle as a consolation prize. Then we returned to the hotel.
The trip total is now 165 species, including 48 lifers. Today's total was 58 species, including 7 lifers.
Hospedería de Monfragüe, Torrejón El Rubio