Around Sepúlveda
Monday, May 13th: We only stayed one night at Hotel Puerta de Sepúlveda. It's too bad we didn't have more time here as this family-run inn is quite nice. The owners were friendly and worked hard to make sure we were had a pleasant stay.
We started the day by doing some birding right at the inn, then drove a short distance to a wooded area. We saw a number of birds including Great Spotted Woodpecker.
Then we packed up and headed out. Most of today's birding was in the Sepúlveda area. We visited similar habitat as yesterday evening, and a dry valley (Himajosa del Valla). These areas added Mistle Thrush, Western Orphean-Warbler, Spectacled Warbler, Ortolan Bunting, and Common Rock-Thrush.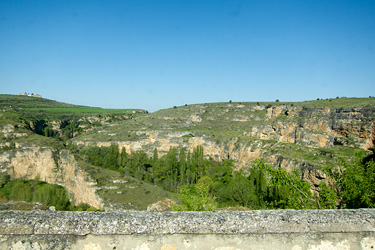 Duraton Canyon
We made a stop at Burgomillodo for coffee and coke. The Duratón runs through here. Before that, we did some birding along the river, adding Western Bonelli's Warbler to the list. We were able to view this warbler through the scope at close range. Its colors show much better in the scope view.
| | |
| --- | --- |
| | |
| Rio Duraton at Burgomillodo | Burgomillodo |
Finally, it was time to make the drive to Hecho. This would consume most of the rest of the day. We ate picnic lunches at a gas station near Sarracin, overlooking some farm fields. Suprisingly, we found a new bird here. While we were eating a Cirl Bunting perched on top of a harrow.
We took a quick look around the Hotel Usón when we arrived, but only found normal birds.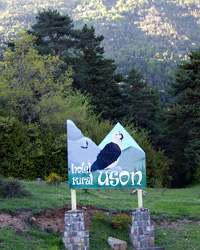 Hotel Usón
Today's total was 43 species with 4 lifers, bringing my trip total to 186 species, including 60 lifers.
Hotel Usón, Hecho