Kite and Dupont's Lark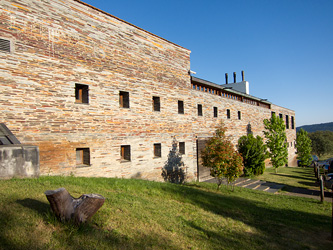 Hospedería de Monfragüe
Sunday, May 12th: After three nights in Monfragüe, we packed up this morning to move to our next location. However, we first had some more nearby birding to do at Arro Campo Reservoir. Most of the birds were ones we had seen before, but the two Great Egrets were new. We spent much of the time looking for the Black-winged Kite (once considered conspecific with White-tailed Kite and Black-shouldered Kites). We tried one location after another without success. Finally, time ran out and we started to head for Sepulveda. However, we kept our eyes open as we drove out. What should appear but the sought-for Black-winged Kite!
After this, it was a long drive to the Sepulveda area. Before going to the hotel, we visited the Hoces del Duraton. This area is great for larks, and our local guide thinks it is better to look there late in the day than early in the morning.
We found a number of larks: Greater Short-toed, Crested, Thekla, Wood Lark, and Sky Lark, but no Dupont's Lark. We also saw a couple of Tawny Pipits, but still no Dupont's. Finally, we set 7:15 as the time to leave, Dupont's or no. We'd heard them sporadically, but not seen them. Finally, at 7:14, a Dupont's Lark was spotted. It stayed put and all got decent looks. Some Red-billed Choughs flew over immediately after.
I ended the day with 61 species (3 lifers), bringing my trip totals to 178 species, including 56 lifers.
Hotel Puerta de Sepúlveda, Sepulveda