Coto Doñana
Tuesday, May 7th: We spent the entire day in the area around Coto Doñana. Most of the time we were on the edge of the park as access is strictly limited. We started by the hotel, then started driving around the northern Doñana marshes. We got some good views of Red-rumped Swallows and Common Linnet. Some stork nests in a clump of trees had sparrows visiting them. Most were House Sparrows, but we managed to find a lovely male Spanish Sparrow.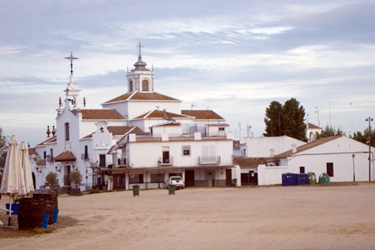 El Rocio
We drove a bit farther on to a reliable spot for Isabelline (Western Olivaceous) Warbler. It wasn't long before we found one. I also picked up Garden Warbler here, and we heard a Cetti's Warbler or two.
We countinued to drive through the marsh area (bordered by an agricultural area). We found Spotted Flycatcher in a bush, two European Turtle-Doves on the wire, and Eurasian (Common) Kestrel. We found a spot with larks in the agricultural area. The Calandra Lark was new. A Greater Short-toed Lark sandwiched between two Lesser Short-tailed Larks provided a great comparison.
Farther down, some Bank Swallows were flying around. We found Eurasian Coot, Eared Grebe, and a number of ducks and waders in a seasonally flooded area. A Black Stork flew overhead, and we found a Northern Lapwing chasing a Red Kite. After some work, all of us were able to see some Little Bitterns. We also saw one of the neck-collared Red-knobbed Coots that area part of the population enhancement program, but we did not find any countable (uncollared) coots.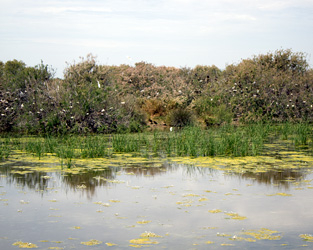 Wetland at Coto Doñana
We visited the Joseph Antonio Valverde Information Center. Valverde made a number of important studies concerning the relation of Spanish and North Africa fauna.
A Eurasian Magpie flew by before we arrived at La Rocina. A walk through the woods added Short-toed Treecreeper, Iberian Chiffchaff, and Eurasian Tree Sparrow.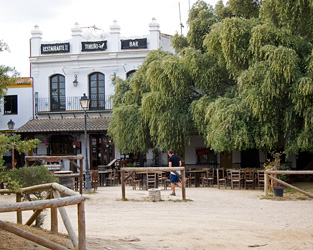 Restaurant in El Rocio
By then, it was late in the day and we returned to the hotel. We have a nice view of the lake from the dining room. A Common Sandpiper provided the last new bird of the day. I finished the day with 87 species, including 6 lifers, 15 trip birds, and the uncountable coot. The trip total is 129, including 34 lifers.
Hotel Toruño, El Rocio