The Atlantic Coast
Wednesday, May 8th: We began the day birding next to our hotel at El Rocio. The birds were pretty much same as before (flamingos, spoonbills, stilts, etc.). After breakfast, we hopped in the vehicles and headed for the Atlantic coast. On the way we saw a Common Woodpigeon in flight and several Iberian Gray Shrikes perched on wires.
A stop at Laguna de Palos added Purple Swamphen. The birds in Spain are blue-headed, unlike the gray-headed Purple Swamphens that dominate the Florida population.
After getting a look at an Osprey on the nest, we started birding the Odiel Marshes, coastal marshes on a spit near Huelva. The petrochemical complexes near Huelva were visible across the river from the marshes. Here we found shorebirds aplenty. Of them, Ruddy Turnstone, Bar-tailed Godwit, (Eurasian) Whimbrel, Eurasian Oystercatcher, Common Greenshank, and a single breeding-plumaged Red Knot were new for the trip. And of course species such as Kentish, Common Ringed, and Black-bellied Plovers, Sanderling, and Common Pratincole were also present.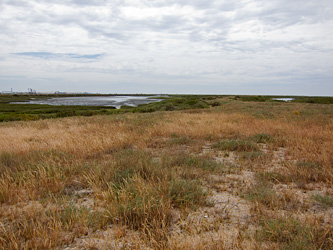 Odiel Marshes
The highlight at Odiel were 4 female Common Scoters that landed in the river. Common Scoter has recently been split from Black Scoter, so I got a lifer. We also spent some time looking through the gulls and terns at Odiel, including getting better looks at Audouin's Gull. We also found a single Caspian Tern.
We spent a lot of time at the coastal marshes. Eventually, we headed back to Huelva, where we stopped for coffee and coke. We also stopped at Laguna de Portil, where we saw a Mediterranean Chameleon before heading back to El Rocio.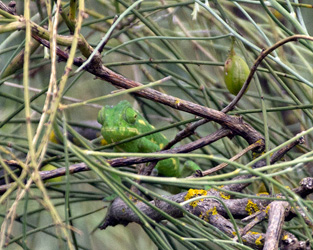 Mediterranean Chameleon
On our way back, we went to the El Acebuche Visitor's Center (Coto Doñana) where we saw the Iberian Lynxes on the lynx cam. Then we walked some of the trails there. There we were able to find Eurasian Golden-Oriole, Crested Tit (similar to Bridled Titmouse) and Savi's Warbler.
| | |
| --- | --- |
| | |
| Lynx Cam | Eurasian Golden-Oriole |
| | |
| White Stork on Nest | Large Psammodromus |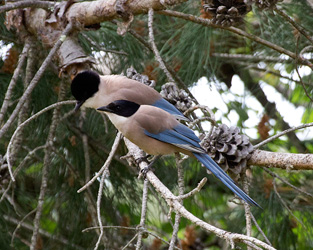 Iberian Magpies
We checked the wetland behind our hotel from a different vantage point before finishing for the day.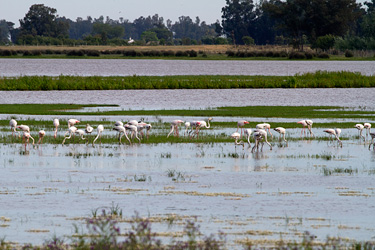 Greater Flamingos
| | |
| --- | --- |
| | |
| Little Egret | El Rocio |
As the festival time approaches, they continue to put up decorations and make other preparations for the 3/4 million visitors they expect in El Rocio.
The day's total was 83 species including 12 lifers. The trip total now stands at 144 species, including 37 life birds.
Hotel Toruño, El Rocio