Spain's Southern Coast
Saturday, May 4th: I went down to check out at 6:45. Don and Susan had just arrived in a cab. We soon spend off to the airport where we got a rental car. Then we headed off to Málaga to join the rest of the group.
A Carrion Crow was new for the trip. Otherwise, we had an uneventful drive arriving at about 9:40. We went to finish the paperwork for returning the rental, and who should standing there but John Muddeman, co-leader for the trip.
There was some difficulty about the van (not available, but maybe at 11), so we went into the terminal to get the rest of the group. As we moved between buildings, we spotted Booted Eagle and Pallid Swift. The other leader, James Lidster, had them already rounded up, so we turned around and trouped back to the rental place. Now they were saying 1pm, which prompted James to go in search of a van at one of the other rental places. He was successful, so we loaded the vehicles and hit the road.
We drove down the highway toward the tip of Spain. Rather than take the road though all of the heavily developed areas, we took the toll road, which is slightly inland. The first of numerous Griffon Vultures was spotted from the car. Numerous Yellow-legged Gulls were flying about as we approached our first stop, a small ill-kept park at La Linea, near Gibraltar. As the only green area around, it sometimes serves as a migrant trap. John had once seen a Red-necked Nightjar. We had a quick sandwich break, then started birding. Some European Bee-eaters flew overhead. A Woodchat Shrike was found on a wire, and we flushed a nightjar. While trying to locate it, we found a European Robin. Then the Red-necked Nightjar moved again. I saw exactly where it landed, and sidled over to get a good look. Success! We also found a couple of European Pied-Flycatchers. Some of the others found additional species here.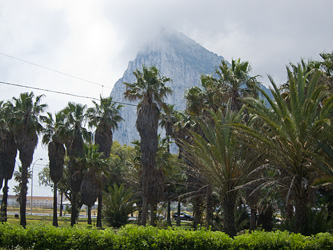 Gibraltar
We drove past Gibraltar and down the coast. We stopped at an abondoned overlook that was once supposed to be visitor's center for birders. We had a good view of the straits and Morocco was easily visible. We could see various hawks flying about. These included Black Kite, Common Buzzard, Short-toed Snake-Eagle, and more Griffon Vultures and Booted Eagles. Some European Greenfinch were in the bushes and a Common Nightingale sang downslope. We also found Lesser Kestrel, and White Stork.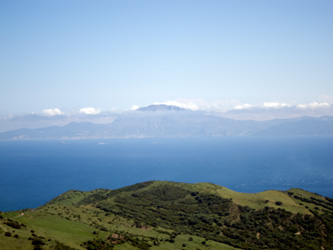 Straits of Gibraltar
We seemed to be a bit off the main line of hawk movement, so we drove back to another overlook, Mirador del Estracho. There we saw many of the same birds, plus European Honey-Buzzard, Eurasian Sparrowhawk, and Peregrine Falcon. More bee-eaters also flew by.
Our last planned stop of the day was down a little road where two or three Common Bulbuls where Spain's second record. It seems a little strange that they don't occur more as they're present on the other side of the straight. We added European Stonechat, Western Marsh-Harrier, and Corn Bunting as we drove to the site. We had to wait a bit, but a Common Bulbul eventually appeared, after birds such as Eurasian Blackcap attempted to confuse us. Some of us got to see a second bulbul while the rest of the group waited for the first to reappear. We also saw Sandwich Tern and Northern Gannet. A European Goldfinch flew over just before we got back in the vehicles.
It was time to head to the hotel. We noticed some Little Egrets in a ditch and an estuary. Just as we turned into town, John noticed a Little Owl on a lamppost. We stopped to scope it. While there, I saw a Cattle Egret fly by. After we'd all had good looks at the owl, we headed to the hotel and dinner. When we did the list, I was reminded how much I'm missing by only knowning a few of the European bird songs. The sun set over Cape Trafalgar as we finished.
I ended the day 39 species including 11 life birds. This brings my trip total to 42 species including 12 lifers.
Hotel Antonio, Zahara de los Atunes