On to Extremadura
Thursday, May 9th: After one last time birding the wetlands next to the hotel, we left El Rocio. Much of our birding today will be in agricultural steppe as we leave Andalucia and drive to Monfragüe National Park, in Extremadura.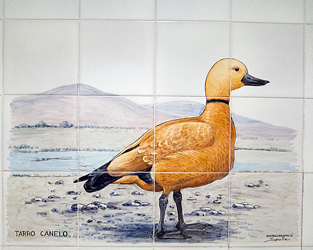 Ruddy Shelduck on Wall
We stopped near Bollullos del Condado, where we found a Rufous-tailed Scrub-Robin. We also got scope views of an Iberian Gray Shrike and some perched Lesser Kestrels.
We headed on to Santa Olalla, where we saw our first Eurasian Crag-Martin and Cinereous Vulture. Our next stop was the dam near Alange. This stop added Bonelli's Eagle, Alpine Swift, Rock Bunting, Black Wheatear, and Black Redstart to our list. We had a picnic lunch there.
| | |
| --- | --- |
| | |
| Blue Rock-Thrush | Black Kite |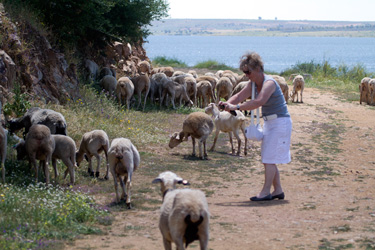 Goats
Although a number of birds were present at a bridge over the Rio Gargaligas, they didn't add anything new. However, we did better on Campo Lugar Road. We got good looks at European Roller, but were unsuccessful in seeing a calling Common Quail. The leaders even briefly played a tape, the first time on the entire trip. Further down the road we encountered a group of 3 female Great Bustards, and then 6 males.
We then drove to our hotel. During our first few days in Andalucia we noticed a profusion of blooming wildflowers along the road. Extremadura seems intent on outdoing Andalucia.
My trip total now stands at 155 species, including 41 lifers. Today's 63 species included 4 lifers.
Hospedería de Monfragüe, Torrejón El Rubio