Travel to Galápagos
Tuesday, July 19, 2011: I went for an early jog around the hotel garden. By the third time up the steps, I had slowed quite a bit and I called it quits after completing the lap, about 1/2 mile. After breakfast, I birded some, adding Black-tailed Trainbearer, Golden-bellied Grosbeak, and Brown-bellied Swallow to my hotel list.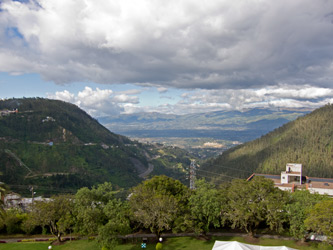 Hotel Quito View
We boarded the bus for the airport at about 8:15. The flight was delayed a bit, so we left for the Galápagos about 10:45. We had a non-stop flight to Baltra, and it took about 2 hours. My first animal of the trip was a Land Iguana that I spotted while the plane taxied to the terminal. The runway is used for taxiing here.
Both Small Ground-Finch and Medium Ground-Finch greeted us at the terminal. We also got closer looks at a Land Iguana. We boarded another bus to take us to the Isabela II. On the way, we spotted a couple of Smooth-billed Anis. At the dock, we added Blue-footed Booby, Brown Noddy, Brown Pelican, Lava Gull, Lava Heron, Elliot's (White-vented) Storm-Petrel.
| | |
| --- | --- |
| | |
| Medium Ground-Finch | Red-billed Tropicbird |
Once aboard, we were introduced to the boat and to the park rules as we headed to nearby North Seymour Island. While the others had a second lunch (we ate on the plane), I looked for birds from the sundeck. I added Galapagos Shearwater, Swallow-tailed Gull, Red-billed Tropicbird, and Nazca Booby to my list. I got a little help with the frigatebirds from Michael O'Brien. That added Magnificent Frigatebird. A Wedge-rumped Storm-Petrel flew by before we could confirm Great Frigatebird. From our anchorage, we could see both Daphe Major and Minor. Daphne Major is where much of the Grant's work on finches has been done.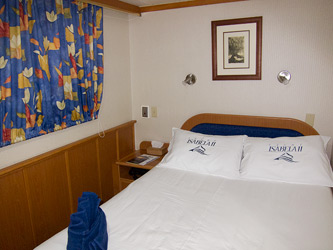 Aboard Ship
We then took pangas (zodiacs) over to the island. We split into three groups, each with a local naturalist guide and a VENT guide. We saw our first Marine Iguanas right after landing. I spotted a Galapagos Dove, which we later got good looks at. Yellow Warblers were pretty common. Our last new bird was a small flock of Ruddy Turnstones, seen just as the trail turned into the interior of the island.
| | |
| --- | --- |
| | |
| Volcanic Beach | Opuntia Cactus |
| | |
| Swallow-tailed Gulls | Great Frigatebirds |
| | |
| Isabela II | Yellow Warbler |
| | |
| Galapagos Sea Lion | Brown Pelican |
| | |
| Marine Iguana | Yellow Warbler |
As we walked along into the interior, a snake appeared in the path — Striped Galapagos Snake, the first of three individuals. At the same time, we had the North Seymour form of Lava Lizard right in front of us. We continued walking. We sometimes had to circle around nesting and courting frigatebirds and boobies that blocked the trail. After about 2 hours on the island, it was getting dark and we returned to the boat.
| | |
| --- | --- |
| | |
| Blue-footed Booby | Striped Galapagos Snake |
| | |
| Galapagos Lava Lizard | Large Painted Locust |
| | |
| Blue-footed Boobies | Blue-footed Boobies |
| | |
| Galapagos Dove | Magnificent Frigatebird |
| | |
| Group on Beach | Blue-footed Boobies |
| | |
| Magnificent Frigatebird | Galapagos Land Iguana |
As I write, we are on our way to Española (Hood) Island.
My bird total for the day was 28 species, 20 at the Galápagos, including 12 lifers.
Aboard the Isabela II, Galápagos