Galápagos: Floreana (Charles) Island
Thursday, July 21, 2011: When I went up on deck around sunrise, we were already at Floreana (Charles) Island. Our first landing site of Punta Cormorant was in view (no cormorants here). As you can see from the photo, we had company. Most of the time when we visited uninhabited islands, there would be a couple of other ships present.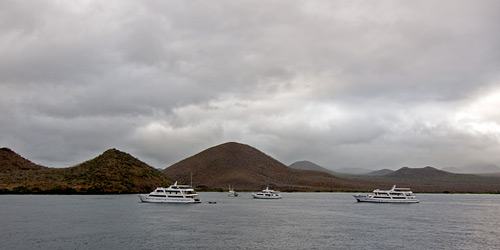 Floreana (Charles) Island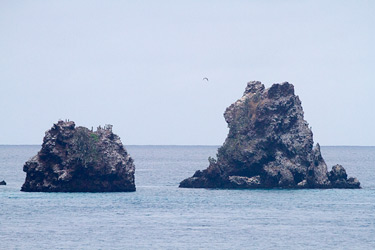 Small Islands
I watched and photographed the various seabirds as they went by for a while, then spotted two American Flamingos flying above the lagoon. We will be visiting that lagoon later today. There were also some distant white birds in the area. I wasn't sure what to make of them at the time, but they were probably Cattle Egrets.
Elliot's Storm-Petrel
Galapagos Shearwater
Wedge-rumped Storm-Petrel
After breakfast, we took the pangas to a wet landing on Floreana. The lagoon is very close to the beach. We soon found a White-cheeked Pintail and a couple of Cattle Egrets flew by. Our target was the flamingo, and a large distant wader caused some brief excitement until we realized it was a Great Blue Heron. We walked a little further and three American Flamingos came into view. A Black-necked Stilt was also visible on some rocks in the lagoon.
We crossed over to another beach on the other side of Punta Cormorant, then returned. On the way back a Galapagos Flycatcher landed on the path in front of us, then perched in a nearby tree. As the beach came into view, we could see a group of 6-8 Galapagos Penguins in the water. We hope to get better looks at them in a couple of days.
| | |
| --- | --- |
| | |
| American Flamingos | Medium Ground-Finch |
| | |
| Floreana Lava Lizard | Galapago Flycatcher |
We returned to our landing site, then checked the other end of the lagoon. I had earlier seen a couple of shorebirds flying around that end, but could not ID them. The Semipalmated Plover we saw might have been one, especially since one of the guides had seen 3 while we were looking at the flamingos.
Some of the group went snorkeling. I was scheduled in the 11am kayak group. We paddled around the bay for a while. The other person in the kayak was a weak paddler, and wanted to quit early. Once everyone in the kayaks had been collected, we headed back to the ship.
We moved a short distance to be closer to the small Champion Island for our afternoon activities. On the way, we encountered a number of Bottlenose Dolphins. We circled around, and they circled around to ride the bow wave. At one point there were about 20 gathered near the bow.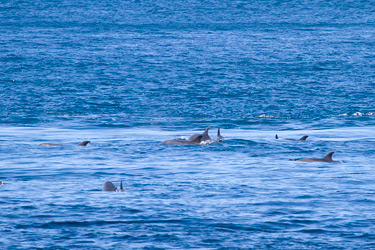 Bottlenose Dolphins
After our dolphin encounter, we proceeded to our afternoon activities near Champion. The deep-water snorkellers went out in one group, while those of use taking the glass-bottom boat required two pangas. Our panga got on the boat first, and we observed a number of fish, a couple of sea lions and a Pacific Green Sea Turtle under the water. There was also a concentration of Brown Noddies and a few Galapagos Shearwaters near the snorkellers. When our half-hour was up, we traded with the other group and went in search of the local mockingbirds.
| | |
| --- | --- |
| | |
| Elliot's Storm-Petrel | Galapagos Shearwater |
The Floreana or Charles Mockingbird is highly endangered. It used to occupy Floreana and surrounding islands, but introduced cats and rats have pretty well wiped-out the main population. Efforts are underway to make Floreana safe for the mockingbird (and other native animals), but that will take time. They told us that there are only about 120 of these mockingbirds in the wild. We would try to see them from the panga, but we only had 30 minutes and would have to be lucky.
We cruised along the island from the snorkelling group and then entered a small cove, with cactus-topped cliffs above us. Amid the yellow warbler songs, I heard an unfamiliar mockingbird-like call. I immediately started scanning the cliff at the that end of the cove. One arm of a cactus looked a bit too extended. Binoculars confirmed that it was a Floreana Mockingbird. We saw 5 by the time we left the cove, and at least a dozen before we returned to the ship.
| | |
| --- | --- |
| | |
| Floreana Mockingbird | Giant Prickly Pear Cactus |
| | |
| Cactus on Floreana | Floreana Mockingbird |
An hour later we were off Post Office Beach. Centuries ago, British whalers had sent up a barrel here for communication. Messages would be left for other whalers, or for homebound ships to take back to Britain. This was exploited by an American warship (Essex) during the War of 1812, enabling a single frigate to eliminate British whaling in the southeast Pacific. This incident inspired part of Patrick O'Brian's novel "The Far Side of the World", one of the Aubrey-Maturin stories.
Although the whalers are long-gone from the Galápagos, the post office tradition remains. Visitors leave mail and messages, and pick up mail to take home. A number of people in our group picked up mail that they will hand-deliver to the recipients. There wasn't any mail for anywhere near Miami.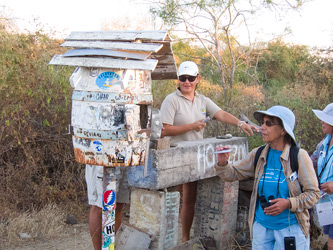 Post Office Barrel
We then returned to the ship and began navigating to Santa Cruz Island, which we should reach around 11pm. We also got short presentations on identification of fish and Darwin's finches. After dinner, a number of us were out looking at the Swallow-tailed Gulls around the ship. They are primarily nocturnal feeders that grab small squid and other sea creatures that approach the surface at night.
My bird total for the day was 26 species, including 3 lifers. My trip total increased by 9 to 35 species, with 21 lifers.
Aboard the Isabela II, Galápagos