Galápagos: Española (Hood) Island
Wednesday, July 20, 2011: Today we visited Española (Hood) Island. Although breakfast wasn't until 7:30, I was up on the sundeck a little after 7. We were still cruising and a number of seabirds were about. Unfortunately, I wasn't up in time to see the Galapagos Petrel, but we should have better opportunities for it. Pretty soon I saw a Waved Albatross. Then one of the storm petrels turned out to be "Pacific (Band-rumped) Storm-Petrel".
After breakfast, I went back up. We had arrived at Gardner Bay, Española Island. Another birder pointed out a Galapagos Hawk kiting over the island. We landed on the beach, which seemed popular with the Galapagos Sea Lions.
Galapagos Sea Lions
We quickly spotted Espanola (Hood) Mockingbird. It wasn't long before we also found Large Cactus-Finches, together with Small Ground-Finches. We also saw a number of Marine Iguanas, which are red on Española.
| | |
| --- | --- |
| | |
| Sally Lightfood Crab | Espanola Mockingbird |
| | |
| Espanola Lava Lizard | Large Cactus-Finch |
We walked along the beach, then took a detour into a sandy depression littered with boulders. This area was created by the recent Japanese tsunami. I got a quick first look at a Gray Warbler-Finch. We also found the endemic Española Lava Lizard there. As we returned to the beach, one of the leaders (Louise) yelled something about a shorebird. Several of us abandoned the rest of the beach walk to go after it. It turned out to be a Wandering Tattler.
| | |
| --- | --- |
| | |
| Wandering Tattler and Crabs | Small Ground-Finch |
I skipped the snorkeling activity (both from the beach and in deeper water), and took the panga out to the glass bottom boat out in the bay. The crew lashed the boats together while we traded places with those already in the boat. We saw numerous species of reef fish from the boat. As the boat was in continual motion, I didn't take photos. I was on the second (last) group to us the glass bottom boat, and we returned directly to the ship.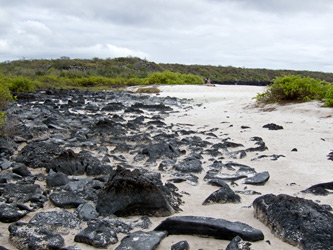 Tsunami Effects
After lunch, we had a break while the ship moved to a different anchorage near Punta Suarez, Española Island. I noticed that there were a lot of volcanic-looking rocks piled up on the shore, and wondered at the time whether they had been washed up there, or not.
Our 3pm walk was a loop across the Punta Suzarez peninsula. Before we pangas, we had noticed a flow of Galapagos Shearwaters over some breakers. This would continue for some time. In fact, they were still flying by when we started the return loop. One of our leaders (Michael) counted a bit, and estimated that about 100 shearwaters flew by every minute. That means that over 10,000 shearwaters flew by while were there.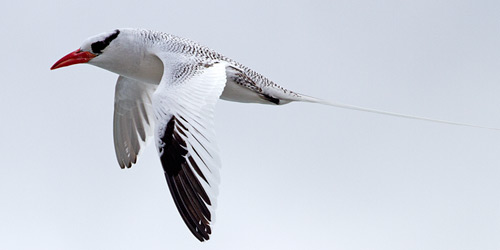 Red-billed Tropicbird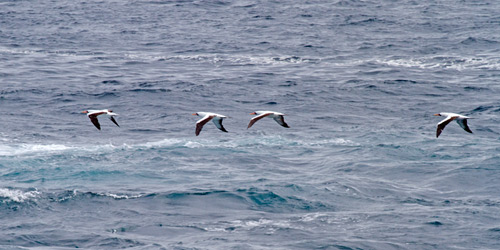 Nazca Boobies
We found several species of nesting birds on the island, including Blue-footed and Red-footed Boobies, Waved Albatrosses, and Swallow-tailed Gulls. Apparently the Galapagos Shearwaters nest in the cliffs there, but we did not actually see the nest. Small squadrons of Red-billed Tropicbirds often passed overhead, loudly calling, but I don't know if there were nests about.
| | |
| --- | --- |
| | |
| Marine Iguanas | Nazca Booby |
The trail itself seems to have been created by simply removing the overlying vegetation. This results in a trail littered with many basaltic cobblestones and boulders. This answers my question about the rocks on the shore. The whole island is covered with them and they reflect the volcanic origins of the Galápagos Islands. This tour group seems older and less fit than the usual birding tour, and many seemed to find the hike strenuous. However, it was easy enough to hop from rock to rock on this trail.
| | |
| --- | --- |
| | |
| Rocky Trail | Nazca Booby |
| | |
| Swallow-tailed Gull | Nazca Boobies |
We rested for a bit by a blowhole on the other side of the island. Although it looks like one, it is not a geyser. Rather, it is a place where incoming waves are forced up through a hold in the rock. We then crossed back over the point, dodging the boobies carrying out their mating rituals in the middle of the path. We also stopped to watch some young albatrosses learning their own mating dance. (Someone compared it to an albatross disco.) Finally, we returned to the shore, and then the boat.
Waved Albatrosses
Although we saw a lot of nesting albatrosses, not every bird was an albatross.
| | |
| --- | --- |
| | |
| Nazca Booby in Flight | Cliffs on Española |
After dinner (we are well-fed here), they were showing part of the BBC series on the Galápagos. I have the DVD and have watched it a couple of times, so I went to bed instead.
My bird total for the day was 20 species, including 6 lifers. My trip total increased by 6 to 26 species, with 18 lifers.
Aboard the Isabela II, Galápagos