Cape Tribulation
Sunday, October 25, 2009: Although NSW changes to daylight time today, Queensland remains on standard time (GMT+10)
We returned to the Jindahlba boardwalk early. We found an Amethystine Python near the parking lot.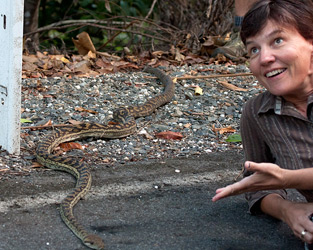 Susan and Amethystine Python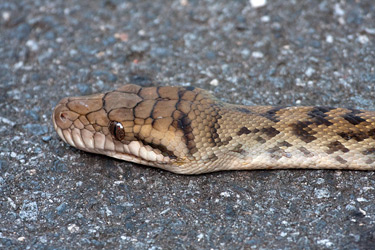 Amethystine Python
Following that, we visited a mangrove area. I added Common Cicadabird, which had been seen yesterday by some. We then recrossed the Daintree (via ferry), and turned toward Cairns. We made some more stops along the way. One was for Beach Stone-Curlew, spotted by one of the group as we drove along. We also found Pacific Golden-Plover somewhere along here (and later at Cairns).
| | |
| --- | --- |
| | |
| Olive-backed Sunbird | Queensland Coast |
| | |
| Beach Stone-Curlew | Beach and Beach Stone-Curlew |
We ate after arriving in Cairns. As it was still relatively early, we also visited Centenary Park, where we hoped to find a Rufous Owl. The directions we had weren't correct, and we failed to find the owl. Nonetheless, we were able to see some of the other species again.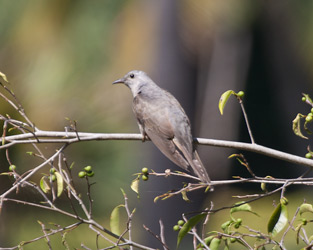 Brush Cuckoo
The tide was in when we arrived at the hotel, so there was no point in searching for shorebirds. We adjourned until about 5:30, hoping the tide would be out. Although falling, the water was still pretty high. Before dark I managed to add Far Eastern Curlew, Bar-tailed Godwit, Striated Heron, and Peregrine Falcon to my trip list.
Rydges Tradewinds Hotel, Cairns
Trip total—260 species including 241 lifers.