Atherton Tablelands
Monday, October 19, 2009:
Breadfast brought the usual assortment of birds. The clouds were threatening as we ate.
| | |
| --- | --- |
| | |
| Sunbird Nest | Helmeted Friarbird |
We headed out via an area with recent cassowary sightings (Etty Bay). The rain hit us on the way. As usual after rain some birds came out. In this case two Southern Cassowaries! They were working the side of the road. One was adult, the other immature. Needless to say, we were all delighted.
We drove through the rain to Hypipamee National Park. A Bridled Honeyeater was under a picnic table. A Fernwren was seen by some near the bathrooms. We walked the trail to Crater Lake. Along the trail, two Spotted Catbirds gave their raucous cat-fight calls. When we got to the crater, a Pied Currawong at the very bottom provided a sense of scale of the crater's depth.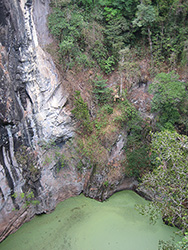 Crater Lake
A roadside stop turned up larger numbers of Plumed Whistling-Ducks and other waterfowl. While we were stopped there, we noticed a Shining Bronze-Cuckoo in a tree.
Hasties Swamp National Park also had large numbers of Plumed Whistling-Ducks, about a dozen Sharp-tailed Sandpipers, a Latham's Snipe, Red-kneed Dotterel, two Black-fronted Dotterels, several Sarus Cranes, and three White-cheeked Honeyeaters. Needless to say, we were all pleased with this stop.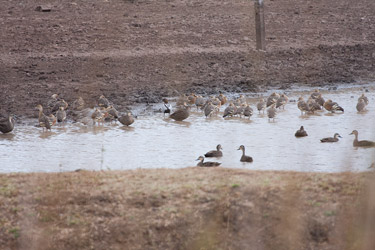 Ducks!: Plumed Whistling, Maned, and Pacific Black
| | |
| --- | --- |
| | |
| Heron and Egret | White-cheeked Honeyeater |
We visited the Curtain Fig Tree shortly before arriving at our motel in Yungaburra.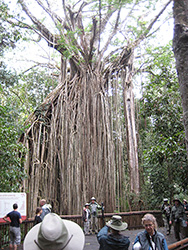 Curtain Fig Tree
At once we got to the motel, we found dozens of Rainbow and Scaly-breasted Lorikeets noisily feeding in the park next door. They acted as if they had not eaten for a week. All this is just uphill from a creek containing Duck-billed Platypus. We walked along the creek, eventually finding two of them at the main highway bridge.
Blue Jacaranda
Scaly-breasted Lorikeets
Willie-wagtail
Scaly-breasted Lorikeets
Australian Brush-turkey
While waiting for dinner at a nearby restaurant, one of the group found a cooperative Pied Butcherbird on the wire, my last lifer of the day.
Trip total—207 species including 196 lifers.
Yungaburra Park Motel, Yungaburra