Mount Lewis
Thursday, October 22, 2009:
A Noisy Pitta called this morning outside my room. We couldn't find it before it was time for breakfast.
Our first stop this morning was Abattoir Swamp, to which we returned in search of crakes. A Northern Fantail was spotted near the parking lot, affording all of us a good luck. Before we got to the blind, we flushed a covey of Brown Quail. The White-browed Crake quickly showed up. Then some of us saw the Spotless Crake. It took some patience to get the bird for everyone.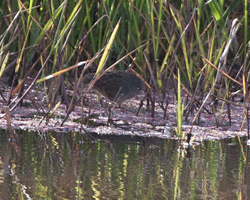 White-browed Crake
We returned to Kingfisher Park Lodge to pick up our lunch sandwiches, then headed to Mt. Lewis. On the road up the mountain, we encountered a Tropical Birding group lead by Ian Campbell. We gave him a ride back to his van, saving his group a long walk. A couple of separated members of his group didn't seem to realize what was happening. One had a really dismayed look as we whisked their leader away.
At our first stop we quickly found one of our major target birds, Chowchilla. We also got good looks at several previously seen species before trying for our second target, Fernwren. I expected them to come in on the ground, and was surprised when I looked up at two birds that had flown to a vine, Fernwrens.
As we were eating our sandwiches, a couple of Yellow-throated Scrubwrens came into view. We also found that we were eating under a tree that had a Mistletoebird nest. The road further up was closed, so we returned to the lodge where we took a mid-afternoon break.
| | |
| --- | --- |
| | |
| Topknot Pigeon | Wompoo Fruit-Dove |
| | |
| Leaf with Lichen | Eastern Spinebill |
| | |
| Tree Fern | Eastern Spinebill |
I did a bit of photography around the bird feeders during the break.
| | |
| --- | --- |
| | |
| Yellow-spotted Honeyeater | Macleay's Honeyeater |
| | |
| Yellow-spotted Honeyeater | Bar-shouldered Dove |
Later in the day we went to the Hall's Gap Dam area. Much of this country is "termite-land", with lots of termite mounds. We found a Little Eagle along the road there. It was driven off by a couple of Black Kites. A walk along a creek did not produce any new birds, so we continued to our destination, a water hole in the Hall's Gap area.
We settled in with a good view of the water hole, and waited for birds to appear. It didn't take long before several species appeared, including Double-barred Finch and Little Friarbird. A pair of Banded Honeyeaters joined the mix. Some Apostlebirds mobbed a Channel-billed Cuckoo. Both Rainbow Lorikeet and Pale-headed Rosella came in for a drink. The friarbirds were joined by some Yellow-throated Miners. Eventually, we found a Squatter Pigeon.
The biggest excitement was caused by a Taipan, one of the most deadly venomous snakes in the world. It slithered down to the pond for a drink, then caused a stir by returning under a bush occupied by Double-barred Finches. By then it was around 6, and we had to head back for our dinner at 7.
Red-winged Parrot
Little Friarbirds
Double-barred and
Black-throated Finches
Taipan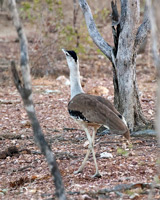 Australian Bustard
During dinner, some mammals visited the feeder, including the Long-nosed Bandicoot. Then we got word that a python was about. It was a Scrub (Amethyst) Python. Don managed to capture it, giving us a very good look. After that excitement, it was time to call it a day.
Trip total—247 species including 232 lifers.
Kingfisher Park Birdwatchers Lodge, Julatten