Mareeba Wetlands
Wednesday, October 21, 2009:
We started again with breakfast at 5am. As we ate, a number of Spectacled Flying-foxes flew overhead. We made a brief stop for another look at the platypus (unsuccessful). Then we headed to Mareeba Wetlands. As we approached the restoration area, we found a flock of Double-barred Finches.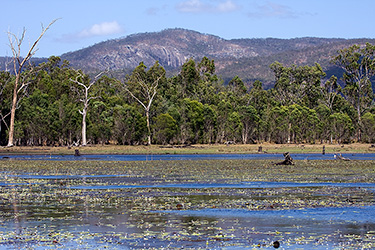 Pandanus Lagoon, Mareeba Wetlands
We got Little Friarbird near the visitor's center, and Wandering Whistling-Duck on the lake. A number of other birds were present.
| | |
| --- | --- |
| | |
| Intermediate Egret | Australasian Darter |
We then made the hike to another lake. The trail went through a dry forest with big termite mounds. Along the way we ran into a flock of Gray-crowned Babblers.
| | |
| --- | --- |
| | |
| Brown Treecreeper | Termite Mound |
There were many ducks and waders at the lake. Although familiar in Florida, Glossy Ibis was an addition to my Australia list. Other lifers included Whiskered Tern and Red-necked Stint. The later was found among some of the many Sharp-tailed Sandpipers.
| | |
| --- | --- |
| | |
| Sharp-tailed Sandpiper | Black-necked Stork |
We returned on the same trail, but the birds were not the same. New birds included White-throated Gerygone, Jacky Winter (yes, that is a bird name), and Weebill, the smallest passerine. This could have been a very hot walk. Fortunately, there were many clouds and the temperature was reasonable.
White-throated Gerygone
Rufous Whistler
Jacky Winter
Weebill
Gray-crowned Babblers
Dollarbird
Pied Butcherbird
As we returned to the visitor's center, we were greeted by an adult Emu with 5 chicks. This Emu is part of a reintroduction program. Obviously, the birds are successfully breeding. At present, few of the chicks survive to adulthood. However, the program is new, and survival may improve as the adults gain experience raising chicks. Apparently the male cares for them.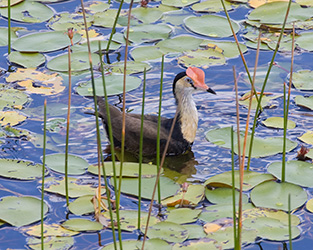 Comb-crested Jacana
Then it was off to Kingfisher Park. At a gas stop, a crazy-flying bird turned out to be Red-winged Parrot. A little later on, a lake that frequently has shorebirds was quite full, and the high water level meant no shorebird habitat. We did see a Swamp Harrier gliding over the area. A little bit down the road we found a pair of Australian Hobbies nesting. An Osprey was also nesting in the area. Somewhere in here we saw Eastern Gray Kangaroo, which is quite a bit larger than the wallabies we've been seeing.
We quickly noticed the feeders after arriving at Kingfisher Park. They featured finches, honeyeaters, and doves. After settling in, we went in search of the Spotless Crake. Only a couple of people got to see the bird (not me). We headed back to Kingfisher Park for the Papuan Frogmouth. It turned out to be easy to find. By then it was dark, and nearing dinnertime. After doing the list, it was dinnertime.
| | |
| --- | --- |
| | |
| Finches | Red-browed Finch |
| | |
| Blue-faced Honeyeater | Common Emerald-Dove |
While eating dinner we had a brief interruption to view Fawn-fronted Melomys, Bush Rat, and Northern Brown Bandicoot at the feeders. During the day the feeders have Red-browed Finches, Chestnut-breasted Munia, and a variety of doves and honeyeaters. At night they become mammal feeders.
| | |
| --- | --- |
| | |
| Nighttime Feeder Activity | Bush Rat |
Trip total—235 species including 220 lifers.
Kingfisher Park Birdwatchers Lodge, Julatten