Yungaburra
Tuesday, October 20, 2009:
We got an early start, with breakfast at 5am. We headed down to the stream to look for platypus and were immediately rewarded. Most of the group then walked the trails, while a few of us stayed behind for platypus photos. Our patience was rewarded! I got my platypus photos, and also got to see some interesting behvior, including rolling in the water.
When the bus arrived, we headed over to pick up the rest of the group. They hadn't finished yet, so we walked the trail a bit ourselves. A Common Emerald-Dove sitting in the trail was my first new bird of the day.
Duck-billed Platypus
Platypus info
Brown Honeyeater
Spangled Drongo
We then returned to the parking lot and crossed the swinging bridge. Before long we joined the rest of the group. All then returned to the bus and we headed for Crater Lakes National Park. The first of the lakes, Lake Eacham, had Great Crested Grebe, a bird I had last seen in the UK in 2000. A number of birds were feeding on fruiting trees in the parking lot. We found three Double-eyed Fig-Parrots in a fig tree.
We walked the trail a bit, turning up several species including Atherton Scrubwren and Tooth-billed Bowerbird. The bowerbird was singing next to its simple bower. This bowerbird, the only member of the genus Scenopoeetes, does not build a proper bower, but merely makes a simple arrangemenet of upside-down leaves on the forest floor. It is sometimes considered a catbird, but genetic evidence puts it in the bowerbird group.
| | |
| --- | --- |
| | |
| Barred Cuckooshrike | Double-eyed Fig-Parrot |
| | |
| Pale-yellow Robin on Nest | White-throated Treecreeper |
Next was the other crater lake, Lake Barrine. The lake had many more grebes, Hardheads, and other ducks and cormorants. We walked a trail for about a kilometer. There was only one new bird, but we did get more looks at other birds such as Victoria's Riflebird. We found a sub-adult male who was practicing his display and dance.
| | |
| --- | --- |
| | |
| Gray Fantail | Yellow-breasted Boatbill |
On the way back, we found a Yellow-breasted Boatbill. I had heard two of these on the way out, but didn't realize what it was. Oddly, neither Jeri nor Susan noticed it until our return journey. I current follow a taxonomy that includes the boatbill in a large Artamidae, but there is something to be said for separating the boatbill in its own family.
We also glimpsed a Dusky Rat-Kangaroo on the way back to the parking lot. We ate lunch at the restaurant. Before reboarding the bus, we spotted a male Mistletoebird that all got excellent views of. Then it was back to the hotel for a break before heading out on our afternoon birding.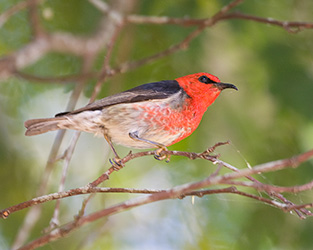 Scarlet Myzomela
We spent much of the afternoon at Lake Tinaroo, which had a good assortment of birds, including thousands of Plumed Whistling-Ducks. While we were headed to a point to get a better view of the birds, Susan spotted an accipiter. It turned out to be a Collared Sparrowhawk.
We scanned and scanned one end of the lake. Although many birds were present, only the Caspian Tern was new for the trip. Of course, those are also easy to see in Florida. We then drove closer to the other end of the lake. There we got another new bird, Common Sandpiper.
Our last stop for the day was the Curtain Fig Tree. The parking area was quite active. We added Pied Monarch, Fork-tailed Swift, and White-throated Needletail. We also got good looks at Spotted Catbird, Victoria's Riflebird, and Yellow-breasted Boatbill. After another visit to the tree itself, we headed for dinner.
| | |
| --- | --- |
| | |
| Pied Monarch | Yellow-breasted Boatbill |
| | |
| Victoria's Riflebird | Curtain Fig Tree |
Trip total—219 species including 206 lifers.
Yungaburra Park Motel, Yungaburra