Sydney
Saturday, October 10, 2009:
The plan was to start the day by returning the Royal Botanic Gardens. On the way, I stopped for breakfast (McDonald's was the only thing open). As I left, my attention was drawn to the opera house, and I spent quite a bit of time circling and photographing it. I also took some shots of the bridge and harbor.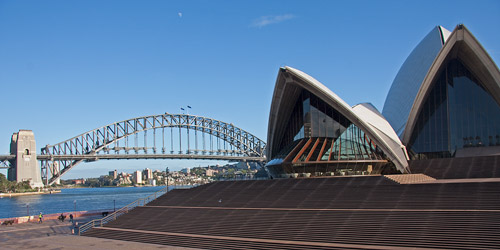 Sydney Harbour Bridge and Opera House
Sydney Harbour Bridge
Moon over Opera House
Opera House Welcome Swallows
Royal Botanic Gardens
The botanic gardens are conveneiently located next to the opera house, so it wasn't a long detour. Again I birded the gardens. I was unable to find any frogmouths, but did find some Little Pied Cormorants. This time I covered a larger chunk of the gardens. I also spent more time looking at the flowers and trees. On the east side, near the "Andrew (Boy) Charlton Swimming Pool", I found a Little Black Cormorant on a dock piling near another Little Pied Cormorant. Other than these two species, the birding was much the same as yesterday, although I did add European Starling.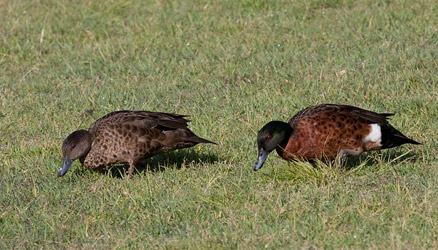 Chestnut Teal
Australian Magpies
Masked Lapwing
Little Pied Cormorants
Pacific Black Duck
Rainbow Lorikeet
Common Myna
Sydney Tower
Harbor and Bridge
After working my way through the gardens, I headed back to Circular Quay and walked west along the harbor. I then walked away from the harbor to a point where I could get up to the Harbour Bridge, which I then walked across. When you get to the other side there's a bridge underpass that leads to a train station. I took the train back across the bridge (the next stop), then headed back to the hotel. Most of the foot traffic was headed the opposite way on the bridge, so I'm guessing they took the train first, then walked the bridge.
| | |
| --- | --- |
| | |
| Sydney Opera House | Sydney: From Bridge Approach |
| | |
| Walking the Harbour Bridge | Circular Quay and Opera House |
Taronga Zoo
A little later I went out for lunch at an outdoor cafe at Circular Quay, followed by taking the ferry to the Taronga Zoo. Although they have non-Australian animals, a big chunk of the zoo is dedicated to native species. Further, they have many aviaries! This gave me a chance to see and hear a number of the bird species I will encounter on the trip, as well as some I won't see. Although it is a very nice zoo, I would rate it below Miami Metrozoo, partly because Metrozoo has better enclosures, partly because it has more diversity. However, Taronga wins on native vegetation and I was glad to have a look at many Australian animals.
There's a tendency in zoos to have lots of pigeons, colorful birds, and birds in conservation programs. E.g., one of the non-native aviaries had a number of South American parrots. The endangered Regent Honeyeater, which is rather nice-looking, was also in an aviary. Given that tendency, I was surprised to find one of the drab and confusing Acrocephalus warblers, probably the Australian Reed-Warbler (sometimes lumped in Clamorous Reed-Warbler). One frustrating bird was the Noisy Pitta. I saw it mentioned on the signs a couple of times, but wasn't seeing it. As I was leaving one of the aviaries I heard its "walk to work" song. After a quick about-face, I finally spotted it.
Usually there are native birds around zoos too. They often come for the food or the landscaping. This zoo was no exception. I got a couple of new species at the zoo: Crested Pigeon and Laughing Kookaburra. The also had some Kookaburras in their aviaries, and I was to see parents showing their children the Kookaburra in a cage when a wild one was perched nearby. Rainbow Lorikeets were also present on both sides of the wire. Another possibly wild bird there was Common Peafowl. Several were flying about. I'm not sure of their status.
Wild Birds at Taronga Zoo
Crested Pigeons
Laughing Kookaburra
I didn't allocate enough time to completely cover the zoo, but did see a big chunk of it. Eventually, I got tired of taking pictures, a sign it was time to leave (many of today's 350+ photos were taken at the zoo, but the zoo photos are not included here). As I walked back to the ferry pier, I noticed some Chestnut Teal in the water below. While waiting for the ferry I also noticed a cormorant on a piling. Study through the binoculars revealed a black thighstrap. That indicated it was not a Little Pied Cormorant. I was also able to see it had a light bill, completing its identification as a Pied Cormorant.
The day finished with dinner at the Imperial Palace Harbourside, an upscale Chinese restaurant with a view of the harbor and opera house. It was pretty good. Although the gap in food quality over cheaper Chinese restaurants didn't seem that large, they do have location!
Trip total—23 species including 19 lifers.
Marriott Sydney Harbour, Sydney