Paluma Range NP
Saturday, October 17, 2009:
We got an early start today. We're heading up the coast to Mission Beach. But first, we visited Paluma Range National Park where we met up with Ian. Like the Blue Mountains, the Paluma Range is part of Australia's Great Dividing Range. The mountains get up to around 3000 feet or so. They are much dryer than the Blue Mountains.
We made a number of stops in the mountains. New birds included Rose-crowned Fruit-Dove, Graceful Honeyeater, Topknot Pigeon, Spectacled Monarch, Bower's Shrike-thrush, Gray-headed Robin, Pale-yellow Robin, Dusky Myzomela, and Barred Cuckooshrike. One of the robins demonstrated its fondness for perching on the side of the tree trunk.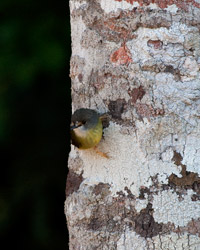 Pale-yellow Robin
One of our trophy birds today was the amazing Victoria's Riflebird, one of the birds-of-paradise. We were able to see both male and female. Unfortunately, I couldn't get any photos. Mountain Thornbill was foraging high in the trees. Walking down a trail, we we examined a Golden Bowerbird bower. The Golden Bowerbird itself soon put in an appearance (our second trophy bird) It stuck around, and all of got great looks at it. There was a second Golden Bowerbird present, possibly a sub-adult. White-headed Pigeon was also in this area.
| | |
| --- | --- |
| | |
| Golden Bowerbird… | … and His Bower |
We followed the trail down to a waterfall, were some of the group saw the venomous Red-bellied Black Snake. A Gray Goshawk flew overhead while we were looking at the waterfall.
We had lunch at an inn in the mountains. During lunch, several Macleay's Honeyeaters visited a feeder right next to our tables. After lunch, we made the long drive to Mission Beach.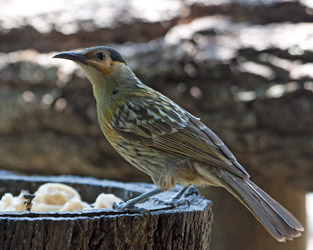 Macleay's Honeyeater
Shortly before arriving at the motel we visited the Licuala State Forest. Bird activity was fairly low, and the only new bird was Yellow-spotted Honeyeater. Some spotted Orange-footed Scrubfowl on the way out, but I missed it. We were hoping for Cassowary, but none appeared.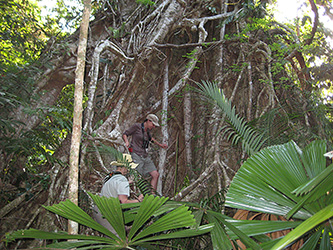 Licuala State Forest
We also saw some Agile Wallbies before arriving at the motel. I got my own Orange-footed Scrubfowl while walking over to the beach. Torresian Imperial-Pigeons were flying over late in the day. They seemed to be headed for some offshore islands.
Trip total—187 species including 176 lifers.
Eco Village Resort, Mission Beach