Townsville
Friday, October 16, 2009:
Today we birded the Townsville area, starting with the Alligator Creek section of Bowling Green Bay National Park. On the way, we stopped for some roadside birds: Zebra Finch and Spangled Drongo.
| | |
| --- | --- |
| | |
| Red-tailed Black-Cockatoo | Scaly-breasted Lorikeets |
At Alligator Creek, we found Scaly-breasted Lorikeet. This was soon followed by the flashy Scarlet Myzomela. The parking lot provided a number of other birds including Lemon-bellied Flycatcher, Helmeted Friarbird, Little Shrike-thrush, White-bellied Cuckooshrike, and Eastern Koel. We walked down to the creek, finding some interesting lizards on the way.
Alligator Creek Area
Allied Rock-wallaby
Australasian Figbird
Little Shrike-thrush
Australian Brush-turkey
It's dry season, and the creek was reduced to a series of pools. A Blue-winged Kookaburra was sitting on one of the rocks. Other birds seen included White-browed Robin, Pale-headed Rosella, and a contentious Superb Fruit-Dove (or was it Rose-headed?). I think the yellow wash on the underparts was a lighting artifact, and am listing it as Superb. Before we left we also saw a colorful Mistletoebird.
| | | |
| --- | --- | --- |
| | | |
| Blue-winged Kookaburra | White-bellied Cuckooshrike | White-browed Robin |
Our other main birding area today was the argricultural area around Giru. There are cane fields here, as well as wetlands and other types of fields. One roadside stop produced Australian Swiftlet and Little Woodswallow as well as Magpie-Goose.
We stopped for a picnic lunch near a stream. A Forest Kingfisher visited during lunch, and Black-faced Woodswallow was found afterward.
| | |
| --- | --- |
| | |
| Magpie-Geese | Forest Kingfisher |
We continued to drive the fields, adding Crimson Finch and Black-throated Finch. A lake contained Green Pygmy-Goose, Cotton Pygmy-Goose, and Comb-crested Jacana. A Golden-headed Cisticola popped up on the barbed wire fence while we were scanning the lake, as did more Crimson Finches.
| | |
| --- | --- |
| | |
| Crimson Finch | Golden-headed Cisticola |
Before leaving the Giru area we also found a flock of Chestnut-breasted Munias. There was also a very contentious falcon (accipiter according to some), that may have been a Black Falcon, or maybe not. Sometimes these raptors just don't stick around long enough to be identified.
Our last location of the day was the Billabong Sanctuary. Many of the group were photographed holding a Koala. Besides the sanctuary birds, there were a number of freeloaders present, including hundreds of Plumed Whistling-Ducks.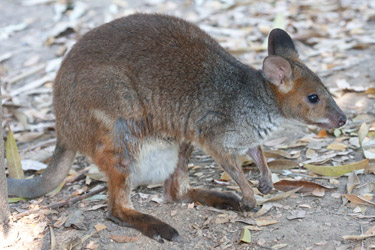 Red-legged Pademelon
Trip total—169 species including 158 lifers.
Seagulls Resort on the Seafront, Townsville