Acadia National Park
Tuesday, July 3rd: We left the hotel a bit earlier and drove to the Wonderland Trailhead, arriving around 7am. We were the only people there, which was quite a contrast to yesterday afternoon's wildly overflowing crowds. The trail was fairly birdy at this hour. Our first new bird came when we passed through an almost alpine-like area of stunted spruces. I heard a Magnolia Warbler, and quickly located it visually. It was the first of the trip, but soon became only one of several today. A little further on, I heard a Mourning Warbler singing, but was unable to locate it.
| | |
| --- | --- |
| | |
| Wonderland Trail | Wonderland Trail Seashore |
We continued to the shore. While standing there, a Great Blue Heron flew over. We returned to the trailhead without finding any more new birds, although the trail remained birdy. One thing that was especially notable was all the young birds, including stripy Myrtle Warblers, Dark-eyed Juncos, and White-throated Sparrows. Although I'd seen the young sparrows before, I puzzled over the warbler until its dad fed it.
We then returned to the Ship Harbor Trail. We did the whole figure-eight loop again. As we were on the last leg, I noticed some birds feeding on pinecones. Then I noticed the odd bill and the white wingbars. There were 8 White-winged Crossbills. The book said they occur on this trail, but "not every year". We got lucky!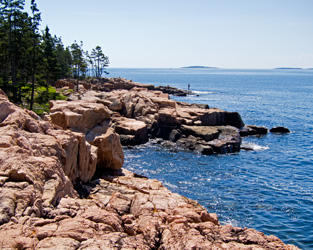 Ship Harbor Trail
We drove to Southwest Harbor, stopping at the interesting Cap'n Nemo's on the way. He had Ron Paul signs in the yard, which led to a lengthy discussion between him and Ann. Ann was looking for somewhere to get a salad, and we ended up at Eat-A-Pita in Southwest Harbor (I had chowder and a curried chicken pita, which was quite good).
| | |
| --- | --- |
| | |
| Cap'n Nemo's | Cap'n Nemo's |
We returned to the hotel for a midday break. At about 2:45 we headed to the trailhead to hike Cadillac Mountain via the South Ridge Trail. The elevation gain from the trailhead is about 1330 feet, but the total gain was over 1500 feet. The trail is 7.5 miles round trip and has great views of the island starting about 1 1/2 miles into the hike. We took a little over 2 hours to reach the top. Taking out the time spent at the top, the whole hike took a little under 4 hours. This was in spite of an unfortunate encounter I had with a broken-off spruce, which slowed me down a bit for the next few days.
| | | |
| --- | --- | --- |
| | | |
| Open Rock on Cadillac Mountain | First View from Cadillac Mountain | Cairns Mark the Trail |
| | |
| --- | --- |
| | |
| Looking up the Trail | Waterpocket on Cadillac Mountain |
| | |
| Approaching the Featherbed | View from the Summit |
We found 33 species today. Our current total for the trip is 95 species of bird, and 6 species of mammal.
Acadia Pines Motel, Bar Harbor, Maine