Return Home
Tuesday, July 10th: We left the hotel at about 6am and headed for Brownfield Bog (which is near Brownfield, but is mixed wetland and woods, but not a bog). This time Ann was in the navigator's seat, and I drove. Brownfield is less that half-an-hour from North Conway, so we got a early start today.
We parked by an small white building, as instructed by the book, and started walking the roads. Brownfield Bog was both birdy and buggy. The mosquitoes set upon us instantly when we got out of the car. Ann put on a headnet, I used bugspray. It was cool, so we were otherwise well covered up.
We noticed a lake to the right, and got a good view in about 50 yards. I found a Ring-necked Duck with the scope as Wilson's Snipe were heard winnowing. We continued down the road, and I soon heard a Warbling Vireo. Pretty soon we had our first of many in our sight. Veerys were evident during most of our visit. I couldn't locate the first Yellow-throated Vireo, but a little farther along we found a pack of 4. Then some Blue-gray Gnatcatchers appeared. We continued walking for a while before deciding to head back to the car. On the way back, Ann saw a Ruby-throated Hummingbird, which I missed.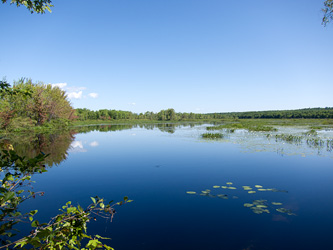 Brownfield Bog
We heard some people landing a canoe as we returned, and saw them walking toward the trunk parked next to us. It turned out they were doing a waterfowl brood survey. We did some additional birding after speaking with them, but did not find anything new for the trip. However, a Brown Creeper was nice to see. Bird activity had decreased somewhat, and the bug level did likewise by the time we left.
We then drove to Portland, dropped the car off, went through security and had lunch. Pretty soon it was time for me to board. My flight to Dulles arrived a bit early, and I was on time into Miami. Ann was traveling separately through Newark to her home in Ft. Lauderdale.
We found 37 species today. Our final total for the trip is 124 species of bird, and 11 species of mammal.
Miami, Florida