Campobello Island
Sunday, July 1st: We started the day by birding the area around the Eastland Motel. It turned out to be surprisingly birdy, and we added three new species to our list: Chestnut-sided Warbler, White-throated Sparrow, and Northern Parula. One of the owners spent some time showing us the various upgrades they are making. We had a bit of breakfast there, then made the short drive into New Brunswick and onto Campobello Island.
As we drove into the island visitor's center we found a couple of Snowshoe Hares grazing on the grass. I also heard an Eastern Bluebird from the parking lot. We also got some maps and other information. Then we headed to visitor's center for Roosevelt-Campobello International Park. The park's visitor's center didn't open until 9 (10 New Brunswick time), so we birded around the area for a while.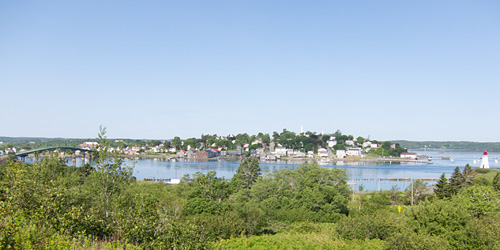 Lubec
We got our first Myrtle Warbler of the trip. Pretty soon we had more of them. Although a number of birds were present, we didn't add too much else. Ann wanted to go to the "Tea with Eleanor" at 10 in the Hubbard Cottage, and we did. It turned out to be rather interesting. We then visited some of the natural area of the park, including the Eagle Hill Bog. At some point I caught up with a Dark-eyed Junco.
| | |
| --- | --- |
| | |
| Roosevelt Cottage | Hubbard Cottage |
We also went to Friar's Head, and walked down to the beach in search of the Friar (a rock formation). It can only be seen at low tide, and perhaps the tide wasn't low enough. In any event, we didn't find it and couldn't tell where it might be. Before heading down there, an Alder Flycatcher had called several times near the observation deck. We also added Turkey Vulture before we returned to the US.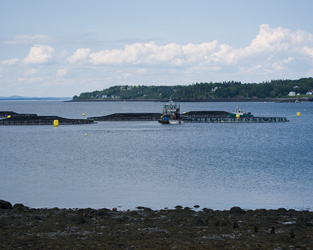 Salmon Farm
Back on the US side, we went to the West Quoddy Head Lighthouse, easternmost point in the US. Then we checked some saltmarshes by the Lubec flats. Several Nelson's Sparrows were singing, and we scoped a couple of them that perched up. Finally, as we headed back to the main road, Ann spotted some American Black Ducks in a pond, including a mother with a bunch of youngsters. There was also an interesting animal in the pond, swimming with only bulbous eyes above the water. Possibly it was a very large frog (bullfrog?), but it seemed bigger than that and Ann thought she saw a tail fin. We don't know what it was.
| | |
| --- | --- |
| | |
| West Quoddy Head Lighthouse | West Quoddy Head Lighthouse |
By then it was 4:30, and time to head to Bar Harbor. It was approaching sundown when we arrived. The motel is about 4 miles from town. After checking in, went into Bar Harbor to and ended up having a late dinner at the West Street Cafe.
We found 38 species today. Our current total for the trip is 84 species of bird, and 6 species of mammal.
Acadia Pines Motel, Bar Harbor, Maine