Acadia National Park
Wednesday, July 4th: Ann planned to visit a friend who lives here today, and I headed out early in search of birds. I returned to the Wonderland Trail. It was overcast and almost rainy. The birds were much the same as yesterday, including a singing Mourning Warbler. Although I saw it fly overhead, I never did get a decent look.
After the Wonderland Trail, I drove to the Western Mountain Road. I spent a lot of time walking the road, then moving the car, and walking the road again. There were a lot of mosquitoes and some rain. Unfortunately, the birds were few and mostly in the heard-only category. I also got a text from Ann that she had seen two Common Loons on the road to town.
I stopped for supplies at an IGA outside Southwest Harbor, then headed for the visitor's center. I was about 4 miles from it when I got a text that Ann had gone there. She was off by the time I got there. I then headed down the park loop road to Sand Beach to walk the Ocean Trail to Otter Cliffs (3 mi. round trip). There are nice views all the way. My timing was poor for Thunder Hole to put on a show. I did see some Black Guillemots in the water below. Right after I started back I caught up on the Common Loon.
| | |
| --- | --- |
| | |
| Otter Cliffs | View from Ocean Trail |
I then drove around the loop and started up Cadillac Mountain via road when I got a text from Ann that I should see the dead whale calf and Natural History Museum at the College of the Atlantic. Off I went. Somewhere in here I found a Gray Squirrel. Meanwhile, I got another text that Ann had seen a Northern Goshawk. The museum was nice, and I walked down to the pier to see the whale calf. Didn't see any goshawks although they apparently nest on campus (Ann ended up with two). It's a nice campus.
| | |
| --- | --- |
| | |
| Dead Whale Calf | Garden at the College |
I then drove over to Jordan Pond and walked part of the trail around the pond. A Common Loon in breeding plumage appeared near the dam. A couple of strange calls near a kinglet flock turned out to be a Hairy Woodpecker and a Brown Creeper.
| | |
| --- | --- |
| | |
| Jordan Pond | Beaver Sign |
On her way back to the hotel, Ann ran across a rather extraordinary scene at the end of a rainbow. A lot of other people noticed it too, and photos were taken. Fortunately, Ann was one of those taking photos.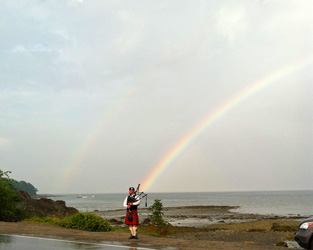 At the End of the Rainbow
After Ann got back, we discussed plans for our last birding on Mt. Desert Island early tomorrow, before driving to the White Mountains. She had spoken with a local ornithologist and had some information about some additional birding locations.
We found 40 species today. Our current total for the trip is 99 species of bird, and 7 species of mammal.
Acadia Pines Motel, Bar Harbor, Maine