White Mountains
Friday, July 6th: I have only one real target bird for this trip: Bicknell's Thrush. And Bicknell's Thrush is mostly easily found on Mt. Washington. The road up Mt. Washington was closed for the day when we passed it yesterday evening. It opens at 7:30am, so we planned to be there then.
We started in plenty of time. Unfortunately, neither of us saw the turn for SR-16 (White Mountain Road), and we stayed on US-302. It took us about 5 miles to realize our mistake, even though we both noticed things along the road that we knew we hadn't seen yesterday. We turned around and headed back, arriving at the Mt. Washington Highway around 7:35, only a little late. Then we started driving up the mountain. I had read that the double turnout a bit below mile maker 4 was good for the thrush, so we stopped there. There were lots of Swainson's Thrushes around. At some point when we were birding in opposite directions from the car, I heard the thrush sing. But I didn't see it. I did find a Blackpoll Warbler. Ann missed both. We looked some more, but neither appeared.
Eventually we went to another turnout about a half-mile up the road, but after stopping in-between, where I decided the habitat wasn't quite right. To me, this stop looked like it had good habitat. Again we went separate ways from the car, and again I found both thrush and warbler! This time I saw the the Bicknell's Thrush (ABA #681), getting a great look at close range. I called to Ann, but she couldn't hear me. I walked back up the road to get her in hopes I could relocate the birds. It took a little while, but two Bicknell's Thrushes appeared, and a Blackpoll eventually perched for some time atop a spruce. Victory!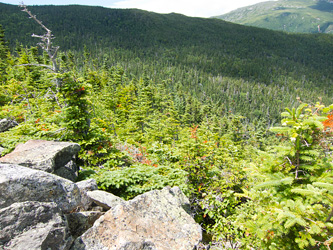 Bicknell's Thrush Habitat
We continued to the top of Mt. Washington. They have an extensive complex on top, and the museum turned out to be quite interesting, with exhibits on geology, weather, history, and flora and fauna of Mt. Washington. We also visited the Tip-Top House, which is the oldest surviving structure on top (1853). Oh yes, there's a spectacular view. We also noticed the Mt. Washington Hotel far below, where the Bretton Woods monetary system was created.
| | |
| --- | --- |
| | |
| Cog Railway | Summit Stage Office |
| | |
| Tip Top House | View from the Top |
Our plan was to head back to US-302, take it west, and loop around via I-93 through Franconia Notch, and the scenic Kancamagus Highway back to Conway. We stopped at the Mt. Washington Hotel where we had lunch at Stickney's, and then went to Franconia Notch. We visited Echo Lake Beach followed by the Old Man of the Mountain Historic Site. As you may know, the Old Man (Hawthorne's Great Stone Face), was a rock formation that collapsed in May 2003. Ann had seen it on her many visits to the White Mountains, but I was way too late. They have a little memorial, and an interesting device next to Profile Lake that lets you see the profile of the Old Man, even though he's gone.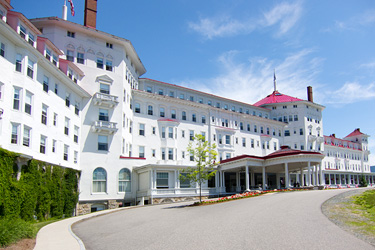 Mt. Washington Hotel
We managed to refind the thrush on the way down, although we didn't get a good look this time. We did get a good look at a Swainson's Thrush much farther down.
We drove through Lafayette Campground, where Ann had stayed many times in the 80's, then stopped at the Basin, a pothole eroded by the Pemigewasset River. After a walk along the river, we headed on. A scenic overlook on the Kancamagus Highway yielded several birds, including a couple of Chestnut-sided Warblers and a heard-only Yellow-billed Cuckoo. We got back to Conway shortly after 7pm.
| | |
| --- | --- |
| | |
| Pemigewasset River | The Basin |
We found 27 species today. Our current total for the trip is 110 species of bird, and 9 species of mammal.
Golden Gables Inn, North Conway, New Hampshire