Acadia National Park
Monday, July 2nd: We started the day by driving into Acadia National Park and visiting the Sieur de Monts Spring area. On the Jesup Trail, we added a couple of Pileated Woodpeckers and a Swamp Sparrow to our trip list. We continued onto the Great Meadow Loop, eventually leaving it at Kebo Brook to wander the golf course. We found a number of birds there, including Purple Finch. We then rejoined the loop, and then took the Hemlock Trail back to the parking lot. Ann found a very young baby Gray Catbird as we neared the parking lot. One of its parents was close by.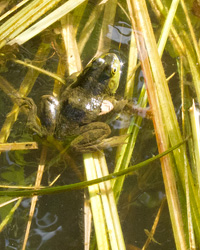 Green Frog
The parking lot had been almost empty when we arrived, but it was almost full now. We joined the Beginning Botany Walk at 10. Both of us found it illuminating concerning some of the local plants, so different from the tropical plants in Miami. The ranger had made some comments about succession. Ann then prodded him with some questions about the fire of 1947 and its effect on forest, eventually ranging into the reasons for current treefalls and their effects.
We spent some time looking at the exhibits in the Nature Center, then went for a scenic drive on the main park road and then the western part of the island. Somewhere in here we found a Laughing Gull. We stopped at Northeast Harbor where we got sandwiches for both lunch and dinner and visited the Great Harbor Maritime Museum.
After some more driving, we stopped at Bass Harbor Head to see the lighthouse and look for birds. A heard-only Swainson's Thrush was the only new species.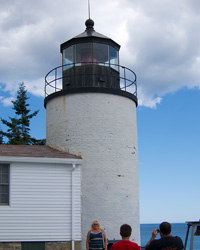 Bass Harbor Head Light
We drove as far as Bernard, then returned to the Ship Harbor Nature Trail. Right at the beginning we found a pair of Nashville Warblers feeding a baby. We also heard both Northern Flicker and Tennessee Warbler on this trail. Other birds were seen (e.g., 19 Common Eiders, gulls, cormorants, other warblers, etc.), but nothing else new. By the time we were done with the trail, it was after 6, and we headed back to the motel.
| | |
| --- | --- |
| | |
| Red Sailboat | Inlet near Ship Harbor |
We found 49 species today. Our current total for the trip is 91 species of bird, and 6 species of mammal.
Acadia Pines Motel, Bar Harbor, Maine