Alta Floresta
We again got an early start. This time we headed up the Rio Cristalino to the Eyebrow Trail, which goes up an eyebrow-like ridge to an overlook (and beyond). We weren't there long when some Santarem Parakeets (Madeiran) showed up. The first of two Bare-necked Fruitcrows flew by, and a beautiful Pompadour Cotinga was spotted at the top of a tree. Various parrots flew by, including Red-and-green Macaws. A Piratic Flycatcher flew into a nearby tree, while Swallow-tailed Kites cruised overhead. A hummer in a tree at the overlook proved to be a female Black-throated Mango. We caught up with a male a bit later. A distant blob in a tree turned into a distant Crested Eagle when examined using the scope. Both Black-faced Dacnis and Pied Puffbird were also seen, and a Natterer's Slaty-Antshrike showed up below the overlook. Before moving on, we added White-fringed Antwren, Golden-winged Parakeet, and White-necked Puffbird.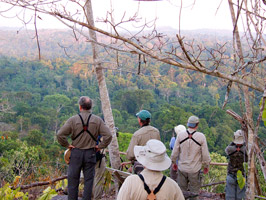 Forest Overlook
We continued up the rocky ridge, trying to get the whole group on the Slaty-Antshrike. A couple of us stayed back and watched Plumbeous Kite and Black Caracara sail overhead. Although the rock superficially appeared volcanic, some had flaked off along the trail, revealing a pink rock, probably a sandstone. It reminds me of the rock at Chapada dos Guimarães, which in turn reminded me of the rock at Bryce Canyon (and even more so at nearby Red Canyon).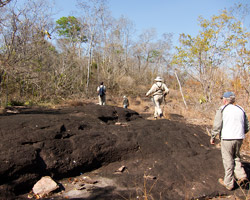 Rocky Hillside
Catching up with the group, we added Tooth-billed Wren and White-lored Tyrannulet. Some searching revealed a pair of Black-girdled Barbets. Other birds seen on the trail included Paradise Jacamar, Red-stained Woodpecker, White-chinned Sapphire, Amethyst Woodstar, and Spotted Puffbird, one of our targets. Going into the forest, we found Pygmy Antwren, Dot-winged Antwren, Gray Antbird, Spix's Warbling-Antbird, Helmeted Pygmy-Tyrant, and Chestnut-winged Hookbill. I could use better looks at the last two. We also saw Little Woodpecker somewhere in here.
| | |
| --- | --- |
| Spotted Puffbird | Paradise Jacamars |
Finally, we got back in the boat to return to the lodge. A Red-capped Cardinal was near the river, and several other species were noted, including 3 species of swallow. However, an Anaconda on a island caused the most excitement. A couple of side-necked turtles were seen as we appoached the lodge. At the lodge, we located a couple of roosting Blackish Nightjars under the eaves of a cabin.
| | |
| --- | --- |
| | |
| Blackish Nightjar | Butterflies Puddling |
After lunch, we watched a couple of Dusky-billed Parrotlets at the deck (world bird #1900). Then we headed upriver to a special place. On the way, we added a very green Green Ibis, Razor-billed Curassow, an immature Great Black-Hawk, and Brown Jacamar. Also, some Blue-and-yellow Macaws put on a show.
| | |
| --- | --- |
| | |
| Dusky-billed Parrotlet | Razor-billed Curassows |
| | |
| Great Black-Hawk | Blue-and-yellow Macaws |
| | |
| Brown Jacamar | Blue-and-yellow Macaw |
| | |
| Green! | Rio Cristalino |
Our local guide, Jorge, took us to a small, seasonal pond. We sat on a log and he erected a low blind in front of us. Whiskered Flycatcher and American Pygmy Kingfisher were present. We waited a bit, and a couple of manakins showed up: White-crowned Manakin and Snow-capped Manakin near us. At the far end of the pond, a foliage-gleaner moved down toward the water, a Para Foliage-gleaner. Soon a White-necked Thrush was in the same spot. A hermit in the corner of the pond appeared to be a Tapajos Hermit. A Blue-black Grosbeak moved into the foliage-gleaner spot, just as a Black-eared Fairy appeared over the pond. Then a couple of Ruddy Quail-Doves cautiously approached the edge of the water. A poorly seen bird turned out to be a Cinereous Antshrike. Both male and female returned later. I finally saw the American Pygmy Kingfisher as it dove into the water, disturbing the hovering hummers.
Now the true show began as bird after bird crept down to the water in the far end of the pond. These included Dot-backed Antbird, Scale-backed Antbird, Chestnut-belted Gnateater, Band-tailed Antbird, White-browed Antbird, Black-faced Antbird, Spot-backed Antbird Pectoral Sparrow, Black-faced Antthrush, and Great Tinamou. The last was my first ever wild tinamou.
A pair of White-winged Shrike-Tanager joined the near-end group, while a couple of Bare-eyed Antbirds moved down in the far end, walking like chickens. A large flyover bird was probably a Red-throated Piping-Guan, which we saw perched a few minutes later. We saw one more as we headed downriver.
As we left the pond, we looked for a Cryptic Forest-Falcon that was calling but without success. No matter. The visit to the pond was an amazing experience. I've sat at ponds before and seen good birds, but this was just extraordinary. Many of these species are difficult to see and rarely in the open, but here they were at the little pond.
It was getting dark by the time we headed downriver toward the lodge. Some bats (fishing bats?) flew along the water, but our star was a perched female Ladder-tailed Nightjar. We also saw several Spectaculed Caiman on our way back, including one standing up on the bank, and another hauled out on a rock that we approached closely.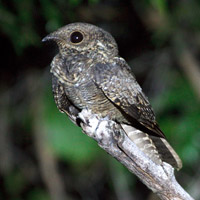 Ladder-tailed Nightjar
My bird total for the day was 88 species, but of them 42 were lifers! The trip total increased by 60 to 409 species (405 seen), with 239 lifers.
Cristalino Jungle Lodge, Rio Cristalino