Travel to Pantanal
Last Birding at Cristalino: Secret Garden
A Red-necked Woodpecker provided a photo opportunity before we headed out on the trails this morning. Unfortunately, I missed an Amazonian Barred-Woodcreeper that appeared shortly after the woodpecker.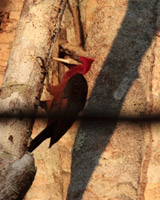 Red-necked Woodpecker
We returned to the Secret Garden this morning, where we saw Gray-crowned Flycatcher and heard a Bay-headed Tanager giving its odd, gnatcatcher-like call. Walking down the trail towards the tower, we added White-crested Spadebill (Cinnamon-crested was also heard, as was Rose-breasted Chat). A Cinereous Mourner briefly appeared above the trail before flying off. Generally speaking, it was hard to get species to come in today. We returned to the lodge around 8:30 to prepare to leave.
We searched in vain for Black-collared Swallow in Rio Teles Pires near the mouth of the Cristalino. We did see a Large-billed Tern, which somewhat reminded us of a skimmer. We landed on one of the islands and located our main target bird, Amazonian Tyrannulet. Other birds seen there included Ladder-tailed Nightjar.
Return to Cuiabá
We then landed at the dock, and got into the waiting vehicles for the return drive to the Floresta Amazonica Hotel. We got there in time for lunch, settled our bills, and had lunch. Then it was off to the airport for our 2pm flight back to Cuiabá. Leo met us at the airport with his bus around 4:30, and we headed to our next lodge, Pousada Piuval. By the time we arrived, it had been dark for the while. The birding will have to wait for tomorrow.
My bird total for the day was 63 species, including 5 lifers. The trip total increased by 8 to 490 species (484 seen), with 291 lifers.
Pousada Piuval, Pantanal