Lower Waterfall Trail
There was a bit of rain this morning. Our van was not available as it had to go to Rio to pick up the last member of our group. We climbed up into the back of a pickup truck (with benches) and road up to the trailhead for the waterfall (green) trail. We walked the trail up to clearing.
Soon after we started, we heard a bellbird. After some searching, and an excursion into the woods, we found a vantage point where we could see the Bare-throated Bellbird. Later on, we saw one right over the trail. With it, you could even see the eye-brow bristles through the scope.
As we headed up, we saw the first of many Golden-chevroned Tanagers and an Azure-shouldered Tanager. Both male and female White-flanked Antwrens put in an appearance. Pretty soon, a Lesser Woodcreeper was spotted climbing up a tree. The first of two Golden-crowned Warblers was flitting around. I think we saw a Sepia-capped Flycatcher at about the same time. Other birds seen on the way up included Unicolored Antwren, Whiskered Flycatcher, Streak-capped Antwren, Eye-ringed Tody-Tyrant, Rufous-capped Antthrush, Black-cheeked Gnateater, and Swallow-tailed Manakin. The last gave us terrific views in the bamboo area on the way down.
At the clearing, we found a number of birds including Blue-naped Chlorophonia, Cliff Flycatcher, Red-necked Tanager, and a bunch of Golden-chevroned Tanagers.
| | |
| --- | --- |
| | |
| Up the Trail | Foggy Clearing |
On the way back down we added Star-throated Antwren, Scaled Antbird, and Rufous-breasted Leaftosser. The leaftosser sat on a log and preened, then walked off to toss some leaves. We also found a Rufous-winged Antwren before leaving the forest. The truck was not yet at the pick-up point, so we continued on down, finding Palm Tanager, Orange-bellied Euphonia, and Yellow-eared Woodpecker before we got in the truck and rode back to the lodge.
Rain continued to threaten in the afternoon. With the whole group finally here, we again walked the wetlands and along the forest edge. New birds for me included Striated Heron, Black-capped Donacobius, Amazon Kingfisher, Yellow-bellied Elaenia, Burnished-buff Tanager Common Tody-Flycatcher, and a heard-only Laughing Falcon. A motmot teased us, but would not show itself. After a long struggle, we spotted a Ferruginous Pygmy-Owl that had been calling.
By then it was getting late. A couple of people headed back to the lodge while the rest of us did a little night birding. A Ringed Kingfisher flew over before it was too dark to see, as did some other previously seen birds. We had no luck with Giant Snipe. After that, it was spotlight time. A Scissor-tailed Nightjar was sitting on the path, and later seen in flight, as was Common Pauraque / Pauraque. We later found a Striped Owl perched on a bush. Then we returned to the lodge.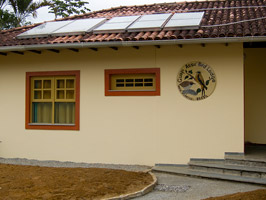 Guapi Assu Bird Lodge
My total for today was 94 bird species. I added 37 species to the triplist, including 22 lifers. The total is now 147 species (144 seen), including 65 lifers.
Guapi Assu Lodge, Rio de Janeiro State