Rainy Day in Rio
I got up around 7:30 this morning. It looked kind of gloomy out, maybe raining. I headed for the well-stocked breakfast buffet first. After breakfast, I checked outside. There was some drizzle, but not much. I heard a bird calling, and could also see two birds flying by along the beach, maybe gulls. I went back inside and grabbed my bins, pocket camera, and umbrella. Then I took a walk along the beach. I walked the block to the beach. The calling bird was quiet, maybe it will be there later.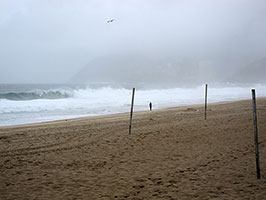 Surf at Ipanema Beach
Soon after crossing the street I noticed some small birds in the sand. Two Masked Water-Tyrants. My first Brazilian bird is a lifer! Another bird was working the same area. Could it be a TK? No, a Cattle Tyrant. Magnificent Frigatebirds soared overhead as I walked west along the beach. I soon noticed two birds flying east over the water, Brown Boobies.
| | |
| --- | --- |
| | |
| Masked Water-Tyrant | Kelp Gull |
A Tropical Kingbird put in an appearance. As I past a vendor's stand, my first Rock Pigeon of the day walked out from behind it. Then a Kelp Gull sitting on the beach caught my attention. A little farther down I noticed some Southern Lapwings. Finally, I decided to head back to the hotel. The mystery bird was calling again, but I still couldn't see it, but not for lack of trying. I think it's a Bananaquit.
After a short break at the hotel, I headed out to the beach again. This time I took pocket binoculars. I also verified the identity of the Bananaquit. I again walked west a bit, but this time on the street side. I noticed a sparrow-like bird that I suspect was a Rufous-collared. Pretty soon I turned around and headed back east. On the way, I noticed my Black Vulture of the day. As often happens with them, the wingbeats clued me in before I used the binoculars.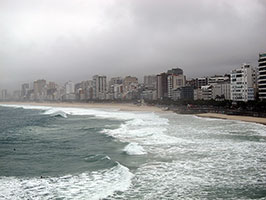 Ipanema Beach
I crossed over to the beach side, and continued to the Ponto do Arpoador. Some surfers were out in the water. A couple hundred Frigatebirds wheeled overhead. A dozen or so Brown Boobies were plunge-diving. I also heard some birds singing in the small park near the point. When I returned from the rocks, I took a quick look in the park. I heard what I think was a Rufous-collared Sparrow, but couldn't find it. I did find a small family of Bananaquits and a couple of Lesser Kiskadees. Another Masked Water-Tyrant briefly perched on the park fence.
| | |
| --- | --- |
| | |
| View from Ponto do Arpoador | Buildings and Frigatebirds |
I went up to the top floor after I returned to the hotel. They have a coffee shop, swimming pool, exercise facilities, and a view. The clouds hampered the view. Not sure if this is going to clear anytime soon.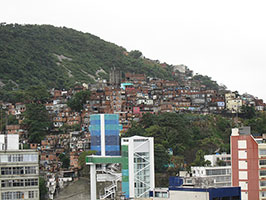 Terrace View
After lunch, I took a longer walk over to Copacabana Beach. It was no longer rain, but still cloudy and threatening. I found some Ruddy Ground-Doves mixed in with some Rock Pigeons at Praça General Osório. I continued on toward Copacabana. I noticed some terns as I approached the beach. Most were South American Terns, but there were a couple of larger terns that had to be Royal Terns. I thought one tern had a yellow bill (Cayenne form of Cabot's/Sandwich?), but I wasn't sure. I walked up the beach for a bit, then headed back.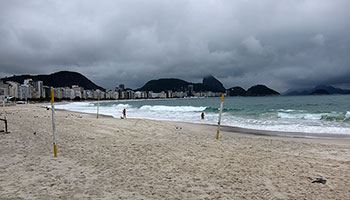 Copacabana Beach
I soon heard a Great Kiskadee calling, and then spotted a couple of them perched nearby on a wooden railing. I also found a Neotropic Cormorant out in the surf. I visited Ponto do Arpoador again on the way back. I tracked down a singing bird that turned out to be a (Southern) House Wren. Their song is rather different from that of their northern cousins. It was looking very dark in the direction of the hotel, so I decided to call it a day and walked back to the hotel. I heard an unidentified hawk calling on the way back, but was unable to spot it (as I had also heard but not seen one at Copacabana).
The weather caused some change of plans today, but I had a pleasant day seeing the Ipanema and Copacabana area, and some decent urban birding. The trip total is 18 bird species, including 3 lifers.
Golden Tulip Ipanema Plaza Hotel, Rio de Janeiro