Pico de Caledônia
The main birding area today was the slopes of Pico de Caledônia. At 7280 feet, it is one of the higher peaks in the area. There's a public road much of the way up. We drove to the base of Pico de Caledônia in a van, stopping outside a lodge with a small waterfall. We then rode in the back of the same REGUA truck as before until we got to a point where it was not prudent to continue in the truck. After that, we started our birding day as we continued up the mountain on foot. Even though we were walking on a (cobblestone) road, it was pretty steep. The plan was to walk up the road to the Petrobras entry point (they have an installation at the top), pass through the entry (ID required), then go up the 600+ steps as far as needed to see the Itatiaia Spinetail.
| | |
| --- | --- |
| | |
| Entrance Waterfall | Our Trusty Steed |
We quickly located our first Diademed Tanagers. We saw a number of them today, even getting good looks at the ruby crown patch that gives them their name. A Serra do Mar Tyrannulet soon followed. We scrambled down a wooded slope in search of Rufous Gnateater, but the gnateater got away from most of us. We did find a Large-tailed Antshrike.
We continued up the slope, at first hearing Black-and-gold Contingas, then one of our targets, Gray-winged Cotinga. But first, Buff-browed Foliage-gleaner and Rufous-tailed Antbird caught our attention. Then we got down to the serious cotinga search. Plumbeous Pigeon called during this period (and there was a possible flyby). Eventually, we managed to locate a Gray-winged Cotinga. I didn't ever get a very good view of the bird as it kept moving. At times the search was interrupted by the presence of other birds, including Thick-billed Saltator, Creamy-bellied Thrush, and Bay-chested Warbling-Finch. We then continued further upward, adding Rufous-capped Antshrike, and Highland Elaenia.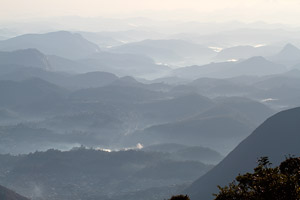 Foggy Hills
We slowly went up the steps, climbing about 400 until an Itatiaia Spinetail was heard calling relatively closely. It turned out to be farther away than expected, and we descended about 200 steps to get closer to it. It took a while, but we eventually got the Itatiaia Spinetail in view. Then we headed back down to the truck. As we drove back to the van, we noticed a flock of Hooded Siskins.
| | |
| --- | --- |
| | |
| View from the Mountain | Bay-chested Warbler-Finch |
Birding at the Lodge
We watched the feeders a bit at Serra dos Tucanos Lodge, adding Gray-necked Wood-Rail to the list. Although I'd seen Plain Parakeets in Rio, we had not seen them as a group until a couple showed up at the high feeder. A scope was needed for a good view. A number of birds came into the low feeders, and we got really good looks at the Blue-naped Chlorophonia we'd seen several days ago at REGUA.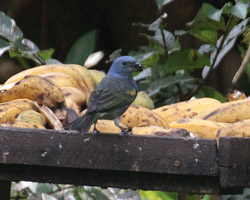 Golden-chevroned Tanager
After relaxing a bit, we headed out on the trails in the Serra dos Tucanos property. We spotted a pair of Black-throated Trogons. I got a good look at the female, but the male never moved where I could really see him. We finally caught up with a Rufous-capped Motmot, although it remained an elusive bird, and did not give us a great view. It was getting dark on the trail so we returned to the lodge. We heard that a streamcreeper had been seen from the bridge in front. In fact, the Sharp-tailed Streamcreeper, showed up along the stream right next to the bridge.
My bird total for the day was 64 species, 15 of them lifers. The trip total is now 265 species (261 seen), with 157 lifers.
Serra dos Tucanos Lodge, Rio de Janeiro State