Columbia Gorge
Tuesday, July 10, 2007:
After a long day yesterday, we got a late start today. Our first stop was to check a possible Monk Parakeet site near the airport. According to the people there, the monks used to nest in the oaks, but are no longer present.
We then headed toward Mt. Hood, which ought to keep us cool during today's heat wave (it was supposed to be a record 100 in Portland). I noticed that Powell Butte Nature Park was on the way, so we stopped there first. We found a few species there, including many Lazuli Buntings, as well as tremendous views. I added Eastern Cottontail to my mammal list for the trip.
It was getting close to noon when we headed up Mt. Hood. We walked around the area near the Timberline Lodge, including a little bit on the Pacific Crest Trail. A few birds were present. The most notable was a Cassin's Finch, which was Susan's 500th ABA bird. This is the third ski area I have birded. All have been mentioned in guidebooks, all have been disappointing. I'm beginning to think it's only worthwhile if you get well away from the ski area.
| | |
| --- | --- |
| | |
| Mount Hood | Timberline Lodge |
On the way down we stopped for a picnic lunch, and at some of the turnouts and parking areas to look for birds. Birding remained quiet and we headed for the Columbia Gorge.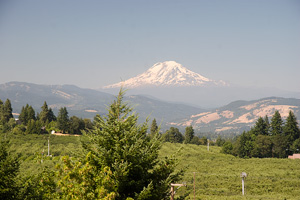 Mount Rainier
I had planned to bird on the Washington side of the river, but the late start and extra stop left us with no time for that. After a quick crossing and recrossing of the Columbia at Hood River (with nice views), we headed back toward Portland through the Columbia Gorge.
We were on the interstate part of the time, but pulled into a town. Now that we were at a low elevation, we could feel the heat and made an ice cream stop. Closer to Portland, you can still drive on the old road, and we did. There are numerous waterfalls along the road. Some require hiking, but Horsetail, Multnomah, and Wahkeena Falls are right by the road. We stopped at each, and I walked up to the bridge over the lower part of Multinomah Falls. The trail makes six switchbacks over about 0.2 miles.
Multnomah Falls
Upper Multnomah Falls
View from Multnomah Falls
Lower Multnomah Falls
Flowers at Wahkeena Falls
Wahkeena Falls
Cascade at Wahkeena Falls
We got to Portland around 6:30. I dropped Susan at the motel. She flies home tomorrow. Then I headed off toward Lincoln city. It took about 2 hours to get there, so I arrived just before sunset. In spite of the heat wave, it was cool on the coast, and I put a jacket on when I went out to the beach. Quite a contrast from the 102 that Portland had today. While Portland expects more high heat, it will be comfortable (high 70s) along the coast. My hotel room overlooks the ocean. Very nice!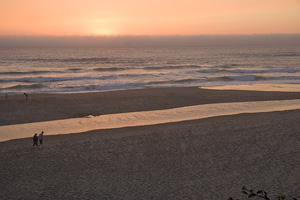 Beach at Pelican Shores
Pelican Shores Inn, Lincoln City, OR