Westport Pelagic
Saturday, July 7, 2007:
Today was my pelagic trip. The boat was scheduled to leave at 5:30am and they recommended arriving by 5:15am, which I did. We got away a little after 5:30 and headed out toward Gray's Canyon. The previous two days had seen strong winds, and few boats had recently gone out. Today was a bit better (I'd guess 12 ft seas), so we set out in search of seabirds. We were warned to put on raingear on now before leaving. Even though rain was not anticipated, we needed it for protection from the wind.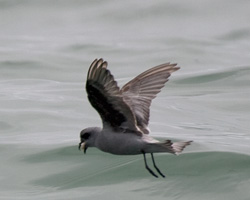 Birding was rather slow until Gray's Canyon. However, we had already found Black-footed Albatross, Pink-footed Shearwater, Fork-tailed Storm-Petrel, and South Polar Skua before arriving. Numbers were lower than normal, but there were still an impressive numbers of Sooty Shearwaters. Leach's Storm-Petrel and Tufted Puffin were lifers for some of the Washingtonians on board. Cassin's Auklets were briefly seen, with none getting a good look.
I was suffering from sea-sickness as we chummed at Gray's Canyon. The result was I took only a few photos, mostly of Fork-tailed Storm-Petrels. I didn't start to perk up until we were well on our way back. The trip back was calmer and birdier than the trip out. We cruised the jetty at Westport before returning to the harbor. Highlights there included Black-legged Kittiwake, Brandt's Cormorant, and Surf Scoters.
Susan and I later investigated the jetty. The top was unimproved, so we did not try to walk out to where the birds were. After dinner, we did a little scoping from the motel. Birds seen included Glaucous-winged, Western, and Heerman's Gulls, Rhinocerous Auklet, Common Murre, White-winged Scoter, and Pigeon Gulliemot. A Harbor Seal also made an appearance.
Harbor Resort, Westport, WA