Flanks of Mt. Shasta
Saturday, July 14, 2007: I got out of the motel about 7 and headed toward Mt. Shasta. I drove to the Panther Meadows parking lot, about a mile from the end of the road, the Everitt Memorial Highway. After getting stuff together, I started on the trail to Gray Butte, which is on the south flank of Shasta. It took me a while to traverse the few hundred yards of lower Panther Meadow. I was busy looking at birds, including Townsend's Solitaires, and taking photos.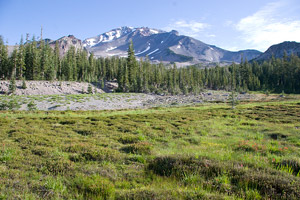 Mt. Shasta and Panther Meadow
Panther Meadow, part of the Shasta-Trinity National Forest, had been much abused by hikers in the past. It is now marked with keep-off signs. The meadow has responded by returning to life (even if it still has some way to go). What a contrast with the devastated ground around ski areas (on this trip and others)! I think the richer habitat is why there were birds in Panther Meadow, and not in the ski areas.
The first part of the woods was birdy too, and I kept the camera out all of the way up. I also noticed a very bright chipmunk, likely a Yellow Pine Chipmunk. Before long I was at a trail junction. The sign (and guidebook) agreed that Gray Butte was to the right, so I went right. After crossing the col between Shasta and Gray Butte, I found myself traversing a steep slope (45-50 degrees, I think), sometimes through woods, sometimes in the open. With this type of mild exposure, it's not a trail for those bothered too much by heights.
| | |
| --- | --- |
| | |
| Layered Hills | Talus Slope |
Eventually, I got to another junction. The trail left headed to some radio towers. The right fork started straight up Gray Butte. Before long I was on the top. Even though it was hazy, Mt. Lassen and Brokeoff Mountain were visible in the distance.
| | | | |
| --- | --- | --- | --- |
| | | | |
| Mt. Shasta and Trees | Benchmark | Mt. Shasta | Mt. Shasta and Wildflowers |
After enjoying the view and taking some photos, I headed back down. Again I was distracted at Panther Meadow. The GPS told me I had spent 45 minutes stationary and 1:45 hiking the 3.6 miles and 750 feet up and back.
Panther Meadow Wildflowers
After heading down the mountain (and spotting a couple of apparent Least Chipmunks, small with their tails straight up) I headed east from Shasta on SR-89. Before long, I reached the falls of the McCloud River. Needless to say, I spent some time photographing all three of them (lower, middle, upper).
The Falls of the McCloud River
Lower Falls
Middle Falls
Upper Falls
Continuing east, McArther-Burney Falls State Park was next. The falls are very nice. The way that parts of the falls start halfway down the cliff, right out of the cliff face, is particularly interesting.
Four Views of McArther-Burney Falls
I walked the Falls Loop (1.2 mi and 300 vertical feet), taking numerous photos. When I returned to the parking area I found a California Ground-Squirrel. There were also some chipmunks, but I didn't get a good enough look to guess at their ID.
| | | |
| --- | --- | --- |
| | | |
| Manzanita | Burney Creek | California Ground-Squirrel |
By now, Lassen was less than an hour away and I was eager to get there. I stopped at the regional information area, then the visitor's center. I got the road guide, then headed into the park. I did the interpretive trail at the Devastated Area. Aside from that, I was mainly concentrating on moving on, but Hat Creek Lake distracted me. Birds were active there. I found at least 4 Spotted Sandpipers, a Dipper, Olive-sided Flycatcher, Tree Swallows and White-throated Swifts, and a very close eye-level male Audubon's Warbler. Very nice! Eventually, I continued through the park. I stopped briefly several places, but did not linger. This brought me to the Lassen Mineral Lodge a little after 6. I checked in, had dinner, and will try to get to bed at a reasonable hour. After all, I have a date with Mount Lassen tomorrow morning.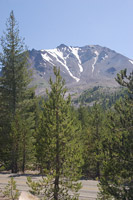 Mt. Lassen
Lassen Mineral Lodge, Mineral, CA