No Magpie
Friday, July 13, 2007: I started the day by birding near Marshall Pond, on the south side of the Klamath River. It was fairly birdy, although Wood Ducks were the only new species for California. A dull olive-colored chipmunk darted across the road as I drove out toward the mouth of the Klamath. It must have been a Shadow Chipmunk. Farther up the road, a couple of Brush Rabbits put in an appearance. At the overlook, a whale occasionally spouted, but I was unable to get it in the scope. By then, it was time to head back to the Requa Inn for breakfast.
After breakfast, I headed down US-101, then toward Mt. Shasta on SR-299. A detour along Titlow Mountain Road in the Shasta-Trinity National Forest produced a few species, including a surprise Blue Grosbeak and an Acorn Woodpecker. There was also a Fence Lizard at one an unofficial overlook. I drove though a lot of what looked like quail habitat, but didn't have any luck with them. I did have to dodge several Mule (Black-tailed) Deer on the way back to the main road.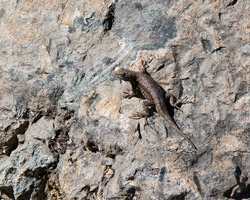 Western Fence Lizard
Back on SR-299, I headed east. The road runs along (and above) the Trinity River, making the trip very scenic. My next stop was Tower House, which is part of the Whiskeytown-Shasta-Trinity National Recreational Area. It was hot and the birds were quiet. I did find a Western Gray Squirrel for the day. Then it was back on the road for Redding. When I got to Redding, I noticed a thermometer reading 102. Hot!! I headed a little south to look for magpies along Jelly's Ferry Road and around the Battle Creek Wildlife Area. At one point I heard some corvids, but they were only Scrub-Jays. A covey of California Quail was a nice surprise. Nice to have them on my California list. Other highlights included Red-shouldered Hawk and Northern Mockingbird (sounds like Florida), Lesser Goldfinch, Western Bluebird, and Ash-throated Flycatchers. Yet with all of this, no magpies! Bad luck is not surprising on Friday the 13th!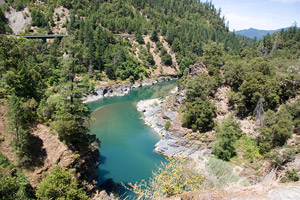 Trinity River
It was time to head to the motel in Dunsmuir, so I gave up the magpie hunt and headed north. I noticed Steller's Jay at the motel when I checked in. Tonight, I should get a full 8 hours of sleep!
Dunsmuir Lodge, Dunsmuir, CA