The Huachucas
Sunday July 29th, 2012: After a quick breakfast at the hotel, we headed over to Ft. Huachuca. We needed to show ID, but not car registration, to get on the base. We missed the turn to Garden Canyon, but drove back around and got it right the second time. Loggerhead Shrike was the only new species before we reached Garden Canyon. We also saw a Rufous-winged Sparrow. At least half the group had missed it in Montoso Canyon, but this time everyone saw it.
We ran into about 8-10 (Woodhouse's) Western Scrub-Jays near the middle picnic area. We first birded down the hill from the upper picnic area, adding our first of several (Northern) Hepatic Tanagers. We then returned to the cars, got water and rain gear, and headed up the road. The road was closed above the upper picnic area, and the only way to get to Sawmill Canyon was to walk up the 2.6 miles.
On the way, we saw one Elegant Trogon and heard another. Two more trogons called at Sawmill. We hoped to find a Buff-breasted Flycatcher sooner, but none showed until we were actually in Sawmill. Numerous other species were spotted on the way up. The most intriguing was a hummingbird that might have been a Plain-capped Starthroat. It certainly was not one of the common species, but none of us got a definitive view. Some of us stopped to look at some of the petrographs on the way down.
| | |
| --- | --- |
| | |
| View from Sawmill Canyon | Petrographs in Garden Canyon |
We returned to Sierra Vista for lunch, then headed to Miller Canyon. On the way we saw a couple of Chihuahuan Ravens. The road up Miller Canyon was rather difficult. It would be quite a bit easier in a high clearance vehicle. We ended up parking just below the washout area below the forest service parking area near Beatty's. We saw an Anna's Hummingbird at the entrance near the frog pond (for the endangered Ramsey Canyon Leopard Frog).
We got directions to the Spotted Owls. It was about 1/2 mile up to the owl. We ran into John Coons and his Field Guides group there. We saw the Spotted Owl branchling before getting to John and his group. Some of us saw the adult as we headed back down the trail.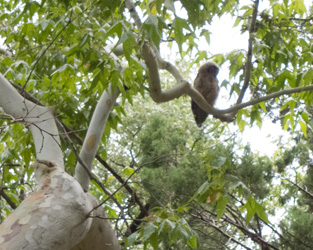 Spotted Owl Branchling
We then visited the feeders at Beatty's. The White-eared Hummingbird visited the feeders often, Blue-throated Hummingbird a few times, and a couple of us got a flyby Rufous Hummingbird. We ended up with 9 species of hummingbird including Magnificent and Violet-crowned Hummingbirds. Then we headed back to Sierra Vista for dinner.
We encountered 45 species today. Of them, 11 were new for the trip. Our trip total is now 121 species and mine is 118. We saw no new mammals, leaving the trip total at 8.
Best Western Mission Inn, Sierra Vista, AZ