Madera Canyon
Friday July 27th, 2012: We started the day with breakfast at the hotel, then headed to Montoso Canyon in search of Plain-capped Starthroat. Unfortunately, the Starthroat hasn't been seen for several days, but we'll try anyway. On the way to Montoso Canyon, our van caught up on the White-tailed Deer. When we got to Montoso, we quickly located the first of many Varied Buntings. This was soon followed by a nice-looking Canyon Wren. A few of us found a Canyon Towhee, but most missed it. A group was present at the hummingbird feeders. We stayed for a while, but without success. We saw some of them later and found out that the starthroat did not appear.
After leaving the feeders we walked the road in search of other species. We heard a number of Rufous-winged Sparrows. Eventually some of us had a look at one. The Blue Grosbeaks were more cooperative. The same cannot be said for a heard-only Black-headed Grosbeak. A Black-throated Sparrow was a catch up bird for me. We later saw one on a nest, located by some birders from Massachusetts. As we were looking at it, a Western Tanager appeared.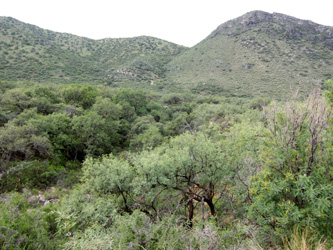 Montoso Canyon Habitat
A bridge on the way back to the highway provided Cliff Swallows. Then we drove back to Continental, and toward Madera Canyon. We started a bit below the Santa Rita Lodge, and walked up to Kubo and back. We heard a Dusky-capped Flycatcher. One was later seen near the lodge. The lodge feeders had lots of goldfinches, Black-chinned Hummingbird, and Brown-headed Cowbird. We saw some Black-headed Grosbeaks at the Kubo feeders. Some bird activity across the road drew some of us over, and David spotted a couple of Band-tailed Pigeons just as the group left at Kubo found an Arizona Woodpecker. We all managed to see both. The first of several Rufous-crowned Sparrow appeared on a woodpile below, and we found a American Black Bear also wandering the area. A heard-only Western Wood-Pewee and a seen-only Sulphur-bellied Flycatcher completed the haul.
We drove into town for lunch, where I added Western Kingbird to my list. Some of the group had seen some around the hotel earlier. After lunch it was back to Madera Canyon. This time we drove up to the end and started up the Vault Mine Trail along Madera Creek, and then a little of Hopkin's Fork. House Wrens and Painted Redstarts were quite common here. We added Greater Pewee and Hermit Thrush, and saw a some of the Western Wood-Pewees we'd been hearing. Plumbeous Vireo was also heard, but we didn't see one until later on. Then we returned to the parking lot.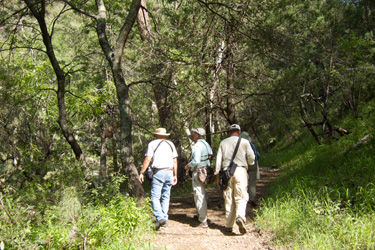 Birding the Vault Mine Trail
We walked down to Chuparosa B & B. to check their feeders. We saw Plumbeous Vireo on the way and some more of the previously seen species. Some of the group waited below as Brian and I (and part of the group) walked back up to the vans. We picked the rest up on the way out.
A stop at Proctor Road added Botteri's Sparrow, and we found Cassin's Kingbird and Cassin's Sparrow near Florida Wash. Some in my van saw a Mule Deer on the way out of Madera Canyon. Then we drove to our hotel in Nogales.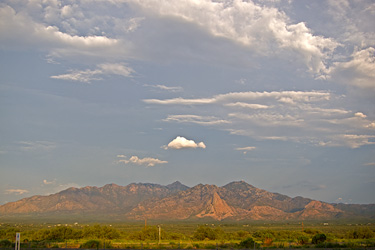 The Santa Ritas
We encountered 52 species today (no misses for me). Of them, 23 were new for the trip. Our trip total is now 85 species and mine is 83. We also saw two new mammals, bringing the trip total to 8.
Americana Hotel, Nogales, AZ