San Pedro River
Monday July 30th, 2012: We went to the San Pedro House early today. The San Pedro was impressively high today, higher than I have seen it in the past. New birds included Abert's Towhee, Great Horned Owl, and a pair of Gilded Flickers. We searched for Green Kingfisher without success. Other highlights included lots of Vermilion Flycatchers and Yellow-breasted Chats. We walked as far as Kingfisher Pond before returning to the San Pedro House. Some of the group saw a Lazuli Bunting on the way back. But one bird was missing, the Inca Dove. We walked around near the San Pedro House, still no dove. But as we were about to leave, one Inca Dove flew in, followed by another.
Grasslands near the San Pedro
The Mighty San Pedro
Mohave Rattlesnake
We returned to Ft. Huachuca to look for the reported nesting trogon in Huachuca Canyon. When we got there, we found John Coons and the Field Guides group. He told us that they'd seen trogons 3 times in about an hour and twenty minutes. Well, it was about 30 minutes until we saw a pair of trogons take food into the nest. We also saw an odd-looking juvenile Hepatic Tanager. Some of us walked up the canyon, while others waited for the trogons to return. Red-faced Warblers were the up-canyon highlight. The trogons returned for those who stayed. They also saw an interesting hawk, but reports varied as to species. When our group returned, we were able to identify some other birds that had been flying around near the cars as Buff-breasted Flycatchers. Huachuca Canyon had one more surprise as we drove down the rugged road, a Common Black-Hawk! My van also spotted a Gray Hawk before we left the canyon.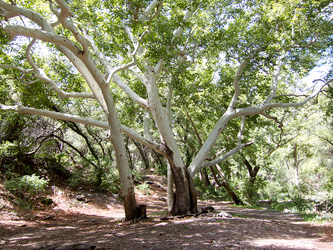 Arizona Sycamore at Huachuca Canyon
We returned to Sierra Vista for lunch, then drove to Portal via Bisbee and Douglas. I spotted a Peregrine Falcon just before returning to Arizona (the road goes through Rodeo, NM). Although it doesn't count as a separate species yet, we found the (Eastern) Curve-billed Thrasher at Portal. The real highlight there was the Golden Eagle that flew right over the lodge.
We encountered 63 species today (60 for me). Of them, 7 were new for the trip. Our trip total is now 128 species and mine is 126. We saw no new mammals, leaving the trip total at 8.
Portal Peak Lodge, Portal, AZ