Santa Eulalia Road
Saturday, June 2nd: We have a large bus, where everyone can have a window seat. There are two drivers and a cook. We left the hotel around 5am for our day trip up the Santa Eulalia Road. Unfortunately, we missed the turn for the Central Highway and had to backtrack a bit. We didn't get far on the Central Highway before running into a detour. All this delayed us by at least half an hour.
Eventually, we reached the Santa Eulalia turnoff. The lower part of the road is paved, but pretty soon the payment ended. Not long after that we found ourselves on a one-lane mountain road. By now it was light, and we could see the spectacular scenery out the windows. We continued to ascend for some time, but eventually stopped to do some birding.
| | |
| --- | --- |
| | |
| Santa Eulalia Valley | Folded Rocks |
We did a fair amount of walking along the road, with occasional drives uphill. At our first stop, we quickly found Bare-faced Ground-Dove, Yellow-billed Tit-Tyrant, American Kestrel, and our first of many Peruvian Sheartails. Rufous-collared Sparrows were also present, and will probably be with us for most of the tour. Other typical birds seen included Band-tailed Seedeater, Cinereous Conebill, and Chiguanco Thrush. Our number one target bird at the first stop was Great Inca-Finch. The first one gave us a bit of trouble to see, but we ended up seeing several on this segment. We also saw Purple-collared Woodstar (poorly at first, but a good look later) and Collared Warbling-Finch. Besides the birds, we also found a cute Northern Mountain Viscacha.
| | |
| --- | --- |
| | |
| Bridge in Santa Eulalia Valley | Collared Warbling-Finch |
| | |
| Greenish Yellow-Finch | Great Inca-Finch |
We continued walking up, finding our first Mourning Sierra-Finchs, some doing their display flights. A Southern House-Wren reminded us how variable house wrens are, and how richly colored the southern birds can be. We were enjoying some some nice looks at some Greenish Yellow-Finches when a couple of Mountain Parakeets came by. I missed the first condor of the day, but did see the first of several Black-chested Buzzard-Eagles. Andean Swifts could be found along the ridges, and I got a nice look at one crusing below us.
| | | |
| --- | --- | --- |
| | | |
| Peruvian Sheartail | Mountain Parakeet | Black-chested Buzzard-Eagle |
Further up, we added the common, but attractive Sparkling Violetear, along with Croaking Ground-Dove and Hooded Siskin. The siskins flew by at various times. Our best looks came further up.
Someplace in here were saw a Golden-bellied Grosbeak. We successfully searched for a Black-necked Woodpecker after hearing its flicker-like calls. A Spot-winged Pigeon was in the same dead eucalyptus tree. The fast-growing eucalyptus was widely planted in the Andes to provide firewood, and has become well-established.
An Andean Condor appeared overhead, and a White-tipped Dove called as we found our first Rusty-bellied Brush-Finch. We also found a couple of Pied-crested Tit-Tyrants, with the spiky hairdo which is flashier in person that it appears in the book. A couple of Streak-throated Bush-Tyrants were present downslope.
| | |
| --- | --- |
| | |
| Yellow-billed Tit-Tyrant Nest | Rusty-bellied Brush-Finch |
| | | |
| --- | --- | --- |
| | | |
| Streak-throated Bush-Tyrant | Streak-throated Bush-Tyrant | Pied-crested Tit-Tyrant |
Moving on a bit, we encountered our first Giant Hummingbird. It got into a bit of tussle with a Sparkling Violetear, as did one further upslope. By now we were getting pretty high up and searching for canasteros. A White-browed Chat-Tyrant distracted us a bit as we were attempting to see the Canyon Canastero. One did pop out briefly in the open, but none were particularly cooperative. That can't be said about a Bronze-tailed Comet that sat for a long time on the same perch, and then continued to return to the same perch.
We continued up to about 10,500 feet, adding Rusty Flower-piercer. A Black-winged Ground-Dove came to drink at a puddle near where we had our lunch table set up. We added Peruvian Sierra-Finch before heading down.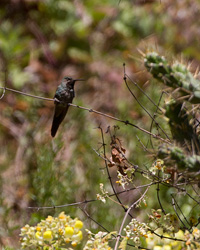 Bronze-tailed Comet
Although we tried to find additional species as we started down, we had no success. As it was getting late, we headed down the hill. The road down seemed much bumpier, and it was trying drive down. It was getting dark as we arrived at Santa Eulalia. Although it is not that far to the airport, it took another two hours to the hotel once we got to the Central Highway. Compared to Lima, traffic in Miami is not at all bad.
Today's species total was 42. My trip list increased by 35 today, including 14 lifers. The current trip total is 50 species, including 15 lifers.
Ramada Costa del Sol Hotel, Lima