Jamestown to Moorhead
Our top priority for today was Baird's Sparrow, so we began our birding at McPhail State Wildlife Management Area. We added Grasshopper Sparrow on the way to our birding spot. Arriving at a particular cow pasture, we walked out in search of the sparrow. There were plenty of Chestnut-collared Longspurs about in the field. As we walked along a fenceline, a female Ring-necked Pheasant flushed. A little farther along, a Short-eared Owl appeared over the next field. A bit later it flew directly overhead. Marbled Godwits flew noisily overhead, and a Willet called in the distance, but we weren't hearing the sparrow.
Two other groups of birders arrived while we were there, and we headed back toward one of them in hopes they had more information about the sparrow. The cows edged off to the side as we approached, and I took a more direct path through where they had been when suddenly I heard the the sparrow call. I yelled to Brian, and he brought the rest over. Pretty soon we had Baird's Sparrow in the scope!
One of the other birders told us about a nearby location for shorebirds. After looking around a bit more, we were in search of shorebirds. As we drove up we noticed some "prairie-dogs" around the pond. They proved to be Richardson's Ground Squirrels. Some grebes near the shore turned out to be Horned Grebes. After a bit, an Upland Sandpiper flew in. We found our first Black-crowned Night-Herons of the trip (several were seen today). We also added American Wigeon. Before we left, a Red Fox hurried along the opposite bank and over the hill.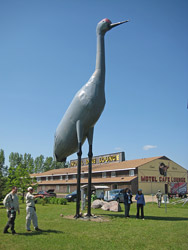 Giant Sandhill Crane
We stopped for gas at Steele, where they have a giant steel Sandhill Crane. Someone noticed a Thirteen-lined Ground Squirel on the lawn (we later encountered another on the Steele Wildlife Drive). A visit to Long Lake National Wildlife Refuge added Clark's Grebe, as well as our first of several American Bitterns today. Then it was back to Steele for lunch. Right after lunch, we found our only Eurasian Collared-Doves of the trip. As I looked around, I noticed an Eastern Fox Squirrel. A nearby yard contained an Eastern Cottontail.
Nearby Slade National Wildlife Refuge added Snowy Egret The picnic area added (Northern) House Wren to our list.
We then took the rugged Steele Birding Drive from Horsehead Lake to Chase Lake. Near Horsehead Lake, we saw Ferruginous Hawk and a female Canvasback with two babies. We also got better looks at some Ring-necked Pheasants. The Pheasants continued as we drove past Kunkel Lake to the Chase Lake National Wildlife Refuge. Many of the birds were repeats, but the Sharp-tailed Grouse was new. A surprise was an American Badger swimming across a pond near the Chase Lake signs in the middle of nowhere. We also found a snake along the drive, possibly a Plains Garter Snake, Thamnophis radix. Northern River Otters were also seen by some.
It was fairly late by the time we left Chase Lake. We stopped at Jamestown for dinner, and arrived at our motel in Moorhead around 11:30 pm. It was a long day, but a satisfying one that included about 90 bird species and eight mammal species (the seven mentioned above plus White-tailed Deer).
Our current totals are 179 bird species and 17 mammal species.
Super 8, Moorhead, MN