Kirtland's Hunt
The first new bird today was a singing Indigo Bunting near the hotel in Grayling. We were on a tight schedule this morning, having to check out before breakfast because there was only a half-hour window between the time the restaurant opened and the meeting time for the Kirtland's Warbler tour.
Most of us didn't make it to the beginning of the Kirtland's pre-tour meeting, but did get there well before the end. Then our tour leader, Jessica, led us off to a Kirtland's breeding area. The group parked on the side of a dirt road, then walked down a less-used dirt road through prime Kirtland's habitat. Before we got that far, Black-capped Chickadees were seen and heard near our parking spot.
We weren't far into to Kirtland's area before I started hearing distant Kirtland's songs on both sides. It wasn't long before we found a Kirtland's Warbler perched up on a dead tree. Before we left, we all got looks at multiple Kirtland's, sometimes through scopes.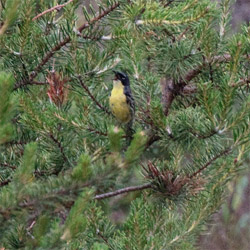 Kirtland's Warbler
A variety of other birds were present, includuing Eastern Bluebird, Vesper Sparrow, Chipping Sparrow, Dark-eyed Junco, Eastern Towhee, and Brown Thrasher. I saw a Common Loon fly by, but it was not seen by the group. We'll have more of those in a day or two.
We returned to Grayling, made a brief stop for supplies, then headed to nearby Hartwick Pines State Park. Before we got there, a Red Squirrel ran across the road. The feeders at Hartwick Pines had Rose-breasted Grosbeak and Purple Finch when we arrived. They also had Eastern Chipmunks and Gray Squirrels, including a number of black-morph Gray Squirrels.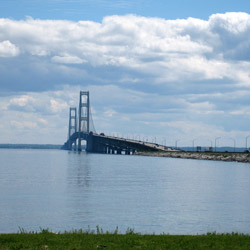 Mackinac Bridge
After a bit we walked the Old Growth Trail. A Black-throated Green Warbler was calling as we hit the trail. We soon spotted a some Hairy Woodpeckers, then two Eastern Wood-Pewees, with at least one youngster of each. A Brown Creeper also provided some excitement. We soon heard (Northern) Winter Wren and Ovenbird signing. The wren proved very responsive and we all got a good look. Further down the path we found a Hermit Thrush which stayed ahead of us on the path for a bit. A Blackburnian Warbler was heard signing, but we couldn't spot it. Pileated Woodpecker and Red-eyed Vireo were also heard, but not seen. Finally, after returning to the visitor's center, we found an Evening Grosbeak at the feeders. Those who were a bit slow heading to the vans also saw a Ruby-throated Hummingbird.
We returned to Grayling for lunch, then headed north. Double-crested Cormorants flew over the bridge ahead of us. We stopped on the far side of the Mackinac Bridge, where we added Herring Gull, Mute Swan, Common Merganser, Common Goldeneye, Common Tern, Red-tailed Hawk, and Yellow Warbler. Something that kept popping up in the water near a couple of the mergansers turned out to be a Northern River Otter. Finally, we left for our next birding area, Hiawatha National Forest.
We added only a few birds at Hiawatha. Nashville Warblers were singing, as were White-throated Sparrows and Swainson's Thrushes. Of these, we were only able to see the sparrow. A bit later on a Blue-headed Vireo played hide-and-seek in the top of a spruce. No one got a good look. Some of the other hoped for birds were not to be seen at all. We did see a couple of Snowshoe Hares.
Once we got back to the highway, we all saw Common Raven. We stopped near Newberry for dinner, then drove the last 25 miles to Seney. A few of us found some Common Yellowthroats late in the day.
Our current totals are 66 bird species and 7 mammal species.
Fox River Motel, Seney, MI